We're just as excited by the latest Vogue cover as the next healthily-obsessed fashion fanatic, but we couldn't help but feel a pang of boredom after seeing Keira Knightley's cover for the October 2012 issue.
The shot features Keira styled in a look that we can only describe as a futuristic '90s hybrid (not too far a cry from her Harper's Bazaar UK September cover) with a teased bouffant hairstyle and silver arm cuffs. Questionable styling choices aside, something about the cover feels a bit... flat.

Maybe it didn't induce the same awe as we're used to because we've basically seen this cover before. Well, kind of. The pink font and blue background combo has seemed to become a staple for the magazine. We've seen this on Marion Cotillard's August cover, Sarah Jessica Parker's cover from August 2011 and we even just saw it on Emma Stone's August cover for Vogue UK. So perhaps we're a little fatigued of the art direction? Either way, we think Keira is looking a little lackluster.
Check out the leaked photo of Vogue's October 2012 cover and tell us what you think. And, yes, we know it's small, but it's the only picture we could find.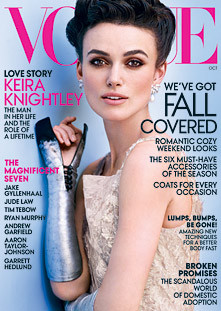 See Keira Knightley's style evolution!
PHOTO GALLERY
Keira Knightley's Style Evolution
BEFORE YOU GO