Backstage at Marc Jacobs' spring 2013 fashion show, the usual chaos was absent, as editors and photographers calmly made there way through scores of models who bared a shocking resemblance to Edie Sedgwick -- transporting us back to the hip era the style icon ruled.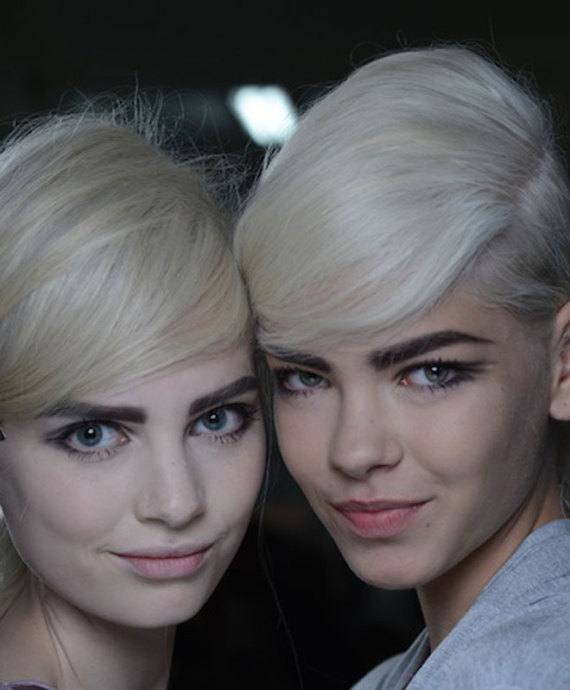 Photo: Courtesy of NARS
The Inspiration: Edie Sedgwick, of course
Makeup: Founder and creative director of NARS Cosmetics Francois Nars admits that he and Marc didn't talk much. The designer simply shared a few pictures of Sedgwick and they perused the clothes, of course. And even though he recently unveiled a new range of makeup inspired by Andy Warhol, it was all a coincidence. "I've never met Edie, but I think I knew her in a previous life," said Nars. "And this was very up my alley."
Focusing on a more "updated, fresher '60s look than Edie was doing," Nars nixed the lashes and heaviness and kept the thicker eyebrows. He worked with very monochrome colors (pressed powder was key to cool down the complexion) in shades of black and white to bring a strong and intense look to the girls. For the eyes, he formed the deep crease using Black Moon Eyeliner Pencil and a thin brush to get that "banana" shape. "You can go back to silent movies. Greta Garbo used to do the crease and it would always go down, not like Sophia Loren where it wings out."
Hair: In true Guido form, Redken's hair pro gave us a straight-up synopsis of the look: "She's a New York girl for sure who's been out all night. She's prissy and super rich, but there's that dark and dangerous side. So, I wanted to do an over-swept part, sort of like a deep bang." A few of the models' hair were actually bleached or dyed black just the night before to follow the monochromatic theme. Not surprising since fresh-faced model Ruby Jean sort of morphed into a muse for the show, Guido explains.
To get this hairstyle, apply Redken Guts to wet hair and rough dry product through to create thickness and volume. You want to add a little height at the crown to change the head shape and not go Amy Winehouse, Guido warns. Once dry, make a deep side part using your fingers and blast with a bit of Powder Refresh Dry Shampoo. Use Quick Tease at the roots for an added lift, slick sides back and gather into a low, spiky ponytail. Finish by pulling out small pieces of hair for a lived-in effect.
Nails: Zoya lead manicurist Elisa Ferri carried out Marc's instructions to create a manicure that would complement the skin and hair by whipping up a special "milk and honey color" made up of Blossom (a 3D iridescent base), Olivia, Cho and Adele (on a short and oval-shaped nail).
See all of our New York Fashion Week coverage here.
Want more? Be sure to check out Stylelist on Twitter, Facebook, Tumblr and Pinterest.
BEFORE YOU GO