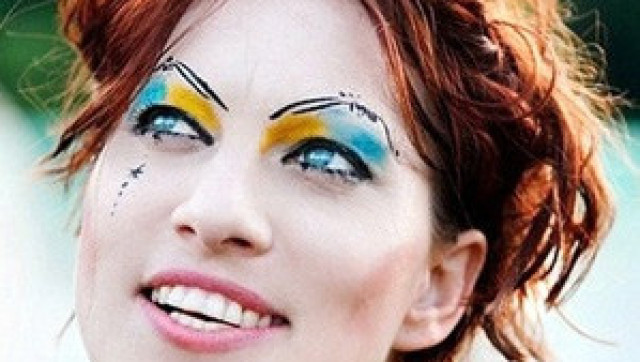 TOP 5 FOR WEDNESDAY, SEPTEMBER 12
1. Amanda Palmer At 9:30 Club
Her music may not be everyone's cup of tea, but Palmer knows how to put on a captivating show. Equal parts performance artist and gifted musician, the Dresden Dolls singer understands the value of theater in the arts. If Alice Cooper and Tori Amos had a baby with David Lynch as the godfather. 7 p.m., all ages, $25
2. Molly Ringwald At Sixth and I
The girl next door will read from her first novel. 7 p.m., all ages, $15
3. Stories On Stage At DC Arts Center
Barrelhouse magazine presents its first reading series at the Adams Morgan event space. D.C. actors will read the works of D.C. authors. 7:30 p.m., all ages, $3
4. Dialogues: Barbara Kruger At Twitter
Interested in what makes one of the most famous artists in the world tick? Can you ask her something in under 140 characters? 2 p.m., all ages, no cover
5. "Running Out of Time," "Grrrl Love and Revolution: Riot Grrrl NYC" At Hillyer Art Space
Two shorts from local documentary filmmakers profiling musician R. Luke Dubois and the Riot Grrrl movement. Directors H. Paul Moon and Abby Moser will participate in an audience discussion following the screenings. 7 p.m., all ages, $10 suggested donation
TOP 5 FOR THE NEXT 5 DAYS
Thursday, September 13
Craft Futures Handi-hour at Renwick Gallery
An evening out is better when you're making something with your hands.
Friday, September 14
Luce Unplugged Community Showcase at Smithsonian American Art Museum Washington City Paper curated this evening of music from Kokayi, The Caribbean and Alex Minoff.
Saturday, September 15
Anna Bolena at Kennedy Center
The Washington National Opera kicks off their season with Donizetti's retelling of Anne Boleyn's tragedy starring Sondra Radvanovsky.
Sunday, September 16
William Elliott Whitmore at Rock and Roll Hotel
The singer-songwriter has been going strong for over 10 years. The Anti- Records recording artists is in the midst of a seemingly never ending tour.
Monday, September 17
Wind Me Up Chuck Mondays: The Chuck Brown Band With George Clinton at Howard Theatre
Chuck Brown seems bigger than ever.
BEFORE YOU GO