Democrats' opinions on the 2012 campaign have grown increasingly positive during the year, while Republican sentiment on the same measures has lagged, according to a Pew Research poll released Wednesday.
Two-thirds of Democrats said in September that the campaign was interesting and 68 percent said it was informative, a dramatic shift since March, when just 36 percent found the campaign interesting, and 44 percent thought it was informative. Republican opinion, which grew more positive in June after the end of the primaries, fell again this month, with about half saying the campaign was interesting and informative.
From Pew's surveys of the last three elections: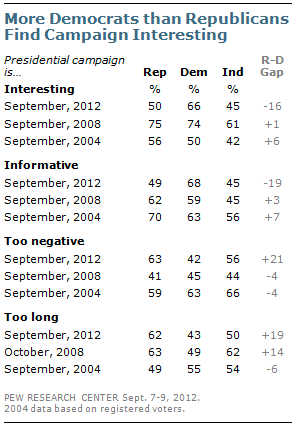 The partisan gap in descriptions of the campaign is new since 2008, when Republicans and Democrats were just about as likely to view the campaign as interesting and informative.
Timing may have been a factor in the partisan divide on the most recent survey. In 2008, Pew asked these questions on a survey that began 11 days after the end of the Republican convention, which followed the Democratic convention that year. This year, Pew asked its question on a survey that began just three days after the end of the Democratic convention.
One surprise, given these results, is that overall interest in the campaign increased only slightly. The number of people who said they have been following campaign news very closely in the past week increased 4 percentage points (from 27 to 31 percent) during the conventions. Four years ago, Pew found a 14-point increase (from 31 to 45 percent) during the conventions that remained high for the rest of the campaign (averaging 44 percent in September and 54 percent in October).
The lack of overall change does not appear related to the partisan differences in the ratings of the campaign as "interesting" and "informative." The new survey found just slightly more Democrats (40 percent) than Republicans (37 percent) paid close attention to news about the 2012 presidential candidates, though interest was lower among independents (25 percent).
The report also notes that while both the 2004 and 2008 campaigns produced a "bounce" in campaign news interest, "there was no bounce in interest following the party conventions" in 1996 and 2000.
The Pew survey interviewed 1,012 adults by telephone between Sept. 7 and Sept. 9, with a 3.6 percent margin of error.
BEFORE YOU GO
PHOTO GALLERY
Barack Obama's Greatest Hits