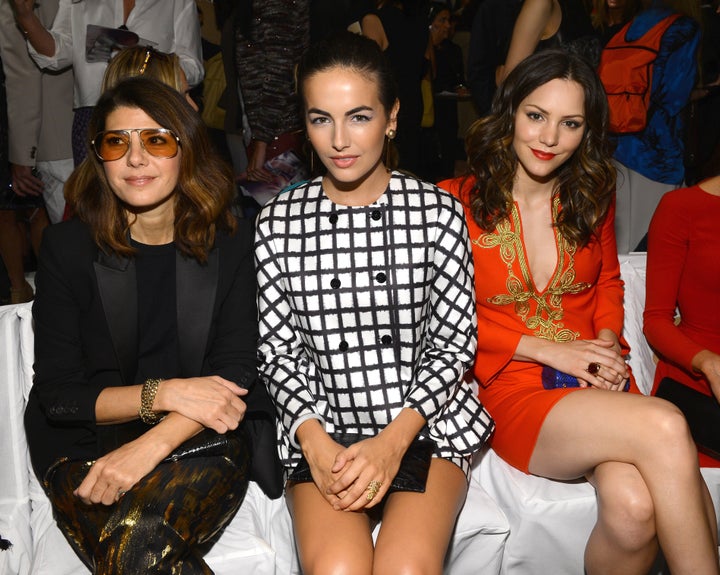 The Michael Kors show is always a hot ticket, attended last season by Jessica Alba, Rachel Zoe, Katie Couric and plenty more A-listers. Maybe it's the clean American glamour or the fact that Kors himself is just so darn nice, but everyone always wants a piece of Michael.
So we were totally pumped to make our last show of Fashion Week (yup, we're ducking out early) the Michael Kors Spring/Summer 2013. After arriving early and basking in the delicious air-conditioning, the stars began rolling in. Olivia Munn, Katharine McPhee and Camilla Belle held things down for the P.Y.T. contingent while Marisa Tomei, Catherine Zeta-Jones and Michael Douglas caused a serious scrum of flashbulbs upon arriving in the front row.
But when the lights in the massive venue went down... and then up again, it was the clothes that stole the show, obvi. Primary colors with bold black stripes, playfully futuristic sunglasses and slick, unembellished silhouettes woke up the entire crowd (if the thumping music hadn't already). By the time Karlie Kloss walked out in the final look, followed by Michael Kors himself, the applause wasn't just a polite courtesy but full-throttled enthusiasm.
Even Anna Wintour cracked a smile before she zoomed out the door.
See photos from the show below!
PHOTO GALLERY
Michael Kors S/S '13 Show