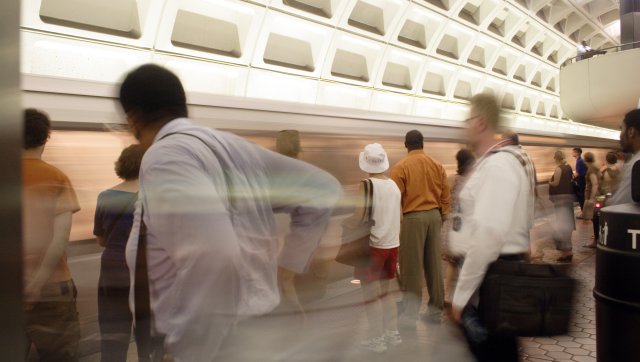 WASHINGTON -- When the Washington Metropolitan Area Transit Authority realigned its rush-hour Metrorail service in June to reduce train congestion heading through the Rosslyn station, Blue Line riders between Virginia and the District of Columbia saw fewer -- and more crowded -- trains on their line.
They've also complained about it. Repeatedly.
Some people didn't want to give up their one-seat ride and have ended up waiting for the more infrequent Blue Line trains instead of using the Yellow Line, which saw a boost in rush-hour frequency between Virginia and downtown Washington.
In some cases, transferring to the Yellow Line at L'Enfant Plaza is actually faster than waiting for the more infrequent Blue Line trains.
Now the transit agency will be handing out vouchers to those passengers used to a one-seat ride in an effort to get them to switch from the Blue Line to the Yellow Line instead.
As The Washington Post reports, Metro will start handing out free Hello Yellow! farecards at select stations until supplies run out. (Click here to find out when and where.)
Although many rush-hour Blue Line riders would like to see their former level of service through Rosslyn restored, it's highly unlikely that will happen. Metro's Rush-Plus plan was designed to prepare for the arrival of the new Silver Line to Tysons Corner and Reston. When Silver Line service starts in late 2013 or early 2014, it will share tracks with the Orange Line from the East Falls Church station through Rosslyn and into downtown Washington.
BEFORE YOU GO