A jury recently ordered Samsung to pay Apple over $1 billion for violating smartphone patents for the iPhone and iPad. Given the high-profile nature of the case and the two companies' ongoing patent battles around the world, you'd think other tech companies would try to make their products look as different from Apple's as possible, wouldn't you? Well not Hewlett-Packard.
On Monday, the world's biggest PC maker (in terms of market share) announced its latest all-in-one desktop computer, the Spectre One. On the inside, it's equipped with Window 8, the latest Microsoft operating system, and so far reviews of it are glowing. On the outside, however, the sleek, aluminum-plated machine looks uncannily similar to Apple's famous iMac series.
If you covered up the company's logos, only a trained eye wouldn't mistake HP's Spectre One for an Apple product.
Check out the side-by-side comparisons of the two desktop computers below.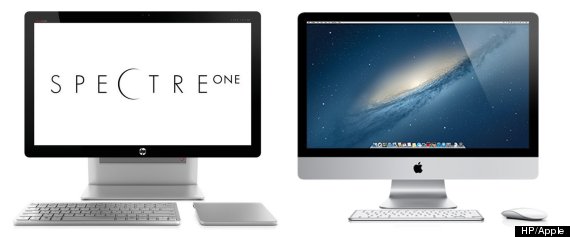 The silver casing, the razor-thin stand, the black frame -- they're characteristic of the iMac. Now it's not like we like Apple suing companies left and right over supposed violations. In fact, before a San Jose jury handed down its seven-figure decision against Samsung, we wrote that an Apple win would hurt consumers by driving up prices and limiting the selection of mobile devices in the U.S.
Think whatever you want of the similarities between the designs of the Apple iPhone and the Samsung Galaxy S series. (Really, we think they look sufficiently different. Here's an unofficial test to determine if one product is aping another product's design: You examine them while standing across a room and see i you can tell them apart. In our own humble opinion, we think you'd be able to.) But it seems foolhardy of HP to walk this close to the line between copying and polite, totally legal inspiration. In this case, it's probably hard to discern a Spectre One from an iMac at a short distance. Even that name, "Spectre," suggests its a shadow of something else.
HP may find itself in Apple's crosshairs soon enough, though. HP CEO Meg Whitman recently told Fox Business that her company has smartphone aspirations. "We have to ultimately offer a smartphone" to stay competitive.
Here's hoping HP doesn't look too closely to the iPhone as inspiration -- for its own sake.
BEFORE YOU GO
PHOTO GALLERY
Apple's Futuristic Cupertino Campus