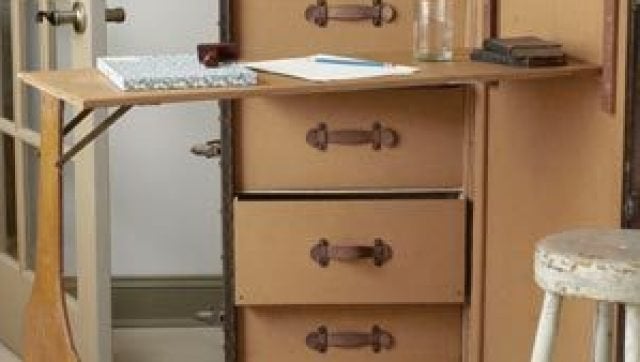 We're very excited to syndicate one of our favorite columns, 'What Is It? What Is It Worth?' from one of our favorite magazines, Country Living. All text and images below are provided by Country Living. Get ready to be surprised!
"I inherited this trunk with Louis Vuitton's logo — is it the real deal?" - S.K., Smithtown, New York
Circa-1920s Louis Vuitton Wardrobe
Our antiques specialist, Helaine Fendelman, appraises your finds and collectibles.
This piece is an excellent example of one of the most intricate trunks ever made by Louis Vuitton. The French fashion house got its start creating luggage in the mid-1800s and debuted standing wardrobes before the turn of the century. Several variations were produced; this 22"W x 44"H x 22"D model, a classic size, boasts many bells and whistles—including leather-handled drawers in various sizes, a pullout shelf (not shown), and a foldout work surface that could be used as a writing desk, a table for tea service, or even an ironing board. This trunk remains in splendid condition, with the LV monogram still visible on the canvas exterior. All these factors, plus the enduring appeal of Vuitton, contribute to the impressive appraisal.