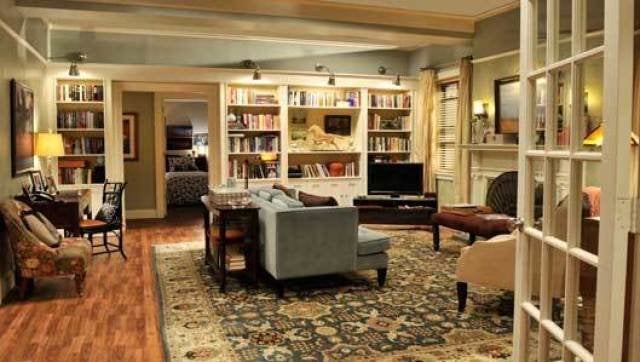 The CBS drama "The Good Wife" has gained major popularity with critics and viewers from all over the world. And what's getting as much attention as the show's intense legal plot is the set's chic design. So, we spoke with set decorator, Beth Kushnick, to find out just what makes this show's decor so unique.

From the moment the show aired three years ago, fans have been obsessed with the characters' apartments. Everything from Alicia's bedroom mirror to Grace's bedding, questions were pouring in from people asking where they could buy similar decor, which paint colors were chosen and if pieces of artwork could be purchased. "The fans were trying to locate me," she said. "We actually had... set stalkers." Kushnick eventually started a blog, The Good Look of The Good Wife, on CBS.com to keep up with all the requests.
So, what exactly makes people want to recreate the set in their own homes? Well, it's not just the beautiful furnishings bought by Kushnick and her team from places like West Elm, Jonathan Adler and Home Decorators. It's also the incredible amount of detail that goes into every room we see. For instance, the drawers are always filled with actual clothes and the refrigerators stocked with real food. To get this right, Kushnick sits down at a piece of furniture [on-set], and visualizes all the things one would need if they were actually working in the space. This attention to the smallest of things allows viewers to feel like they're looking at rooms that could be found in their own home. "We're trying to infuse how real people live," she said. "And [viewers] find that very aspirational."
And that's the very reason why, after 25 years in the business, Kushnick was inspired to create her own collection of home goods on the online boutique OpenSky and collaborate with designers Mitchell Gold + Bob Williams and Interlude Home to create a line of furniture inspired by the show.
So, just how can you make your home look as good as a set? Kushnick recommends viewing a room from all four corners, as she must because of camera angles. "This will help stretch your imagination," she said. "Move the furniture around and play with it." She also says try changing your linens, add different textures and think about the things you can repurpose. "Never be forced to get rid of things that mean something to you," she said.
Check out Beth's latest collection on OpenSky on September 27th and be sure to check out the season premier of "The Good Wife" on September 30th.
BEFORE YOU GO