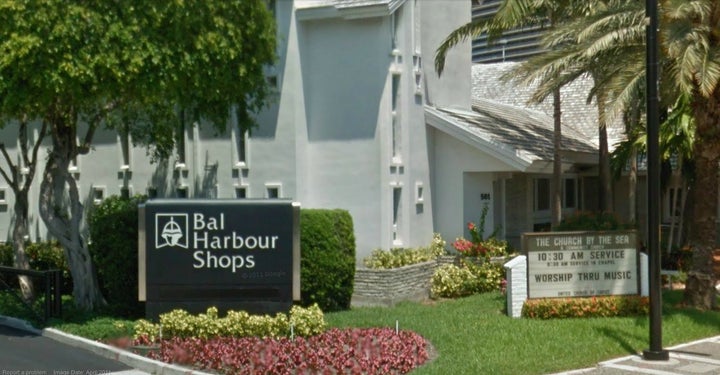 After decades of talks, the luxe Bal Harbour Shops will be expanding retail space onto the property of a 67-year-old church.
The Shops will be growing 200,000 square feet larger, part of that footprint planned for where Church by the Sea sits now on 96th Street. The congregation made the trade in exchange for The Shops funding and building a new 50,000-square-foot, eco-friendly church at the intersection of Bal Bay Drive and Park Drive, according to a press release.
Church members will also be given free parking spaces in the shops.
The open-air mall, owned by three generations of the Whitman family, has reportedly been in talks with the progressive Protestant church, founded in 1945, for the last five decades. In June, church members voted in favor of the agreement, which was finalized late last week.
Some current stores looking to expand will move into the new retail wing along with new brands that have been on a waiting list, said Boardroom Communications' Susan Miller, who represents the shops.
The shopping center agreed to move the stained glass windows from the sanctuary into the new building, which will be about 20,000 square feet larger,
"The free parking as well as a new eco-friendly, state-of-the-art building that was larger... really is what pushed people over the edge to thinking that this was a good idea," the Rev. Robert Asinger told HuffPost Miami.
About 15 years ago, the relationship turned contentious when the congregation filed a lawsuit against Bal Harbour Shops over parking fees -- church members had to park on the street or pay to use the parking garage. During talks with the shopping center, the garage parking fees were waived.
"My family and I have been in conversations with our neighbors, the Church by the Sea, for the better part of half a century," said the Shops' operating partner Matthew Whitman Lazenby in a statement. "We are just delighted to have found a solution that allows the church to advance its mission, while affording us the opportunity to finally move forward with our long-awaited expansion."
BEFORE YOU GO