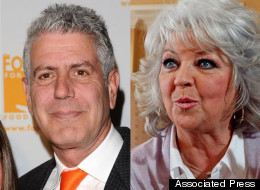 Here at HuffPost Food, we pay pretty close attention to the way chefs behave. Chefs are known to be passionate, hard-working people, with occasionally quick tempers and sharp tongues. So, when a chef gets famous, nothing really changes -- except that many more people bear witness to their behavior.
Because this is the kind of thing we do around here, we sat around dreaming up the best celebrity chef pairings for a desert-island style deathmatch. We want to know: If all these personalities were stranded together, who do you think would emerge victoriously from a Celebrity Chef Deathmatch?
Here's a breakdown of our contestants:
Anthony Bourdain
Pros: will eat pretty much everything, quick-witted
Cons: often cranky, has a lot of enemies, weakness for bone marrow and whiskey
Gordon Ramsay
Pros: aggressive, has a clear vision of what a winner is
Cons: prone to calling people "donkeys," highly particular about how food is cooked, known softy deep-down
Giada de Laurentiis
Pros: kind and bubbly, seems like a good listener
Cons: too smiley, over-pronounces Italian words
Rachael Ray
Pros: can pretty much turn dirt into dinner, scrappy
Cons: excessive use of the word "yum-o," sort of like your friend's annoying mom
Paula Deen
Pros: always chipper, looks at the glass half-full
Cons: might actually be very conniving and calculating, money hungry, weakness for butter
Guy Fieri
Pros: we're not actually sure
Cons: hard to spend a lot of time with, hair will stand out in camouflage situations, weakness for mozzarella sticks
Sandra Lee
Pros: can make a nice tablescape with limited supplies, has friends in high places, gives Bourdain the willies
Cons: there are no can-openers on desert islands
Alton Brown
Pros: can find multi-uses for various tools, solid understanding of science
Cons: whiny, thin-skinned, potential know-it-all-ism
Here's how the Celebrity Chef Deathmatch voting will go down:
Round One voting opens today (September 18th) -- vote right now!
Wednesday, September 19th at 12:00am Eastern, Round Two begins.
Thursday, September 20th at 12:00am Eastern, you'll be able to vote in Round Three.
Friday morning, September 21st, we'll announce who makes it off the island last.
Ready, set, vote!
BEFORE YOU GO
PHOTO GALLERY
The Worst Celebrity Chef Endorsements