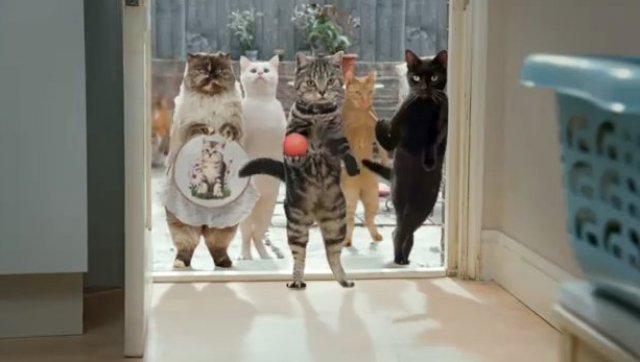 Having always held the belief that if our house cats were to suddenly grow to three times their size, they would immediately kill us in the night -- Cravendale Milk's "Cats with Thumbs" ad campaign has thoroughly terrified us. In the most recent ad, the Thumb Cat Army brainwashes England's Milkmen into redistributing all the milk from its previous human owners into the (now-thumbed) hands of the seedy cat-world underbelly.
Are you riveted yet? If you need to know everything there is to know about this Cravendale dairy-thieving ring, you need only turn to their leader, Bertrum Thumbcat's Facebook page or Twitter account (yes, seriously). England is demolishing the U.S. in the cheeky commercials department, everyone. Here's proof:
For a little background on how Betrum and his gang of miscreants were be-thumbed:
"Why do cats always stare when you're pouring milk? It's like they know it's only a matter of time," will officially ring out in our nightmares for weeks. This is not Cravendale's first incredibly bizarre and hilarious ad campaign. Ad agency Wieden + Kennedy (the same weirdos responsible for Thumb Cats) were the brains behind the "first man to milk a cow" campaign from last year. Thank you for your strange work, everyone!
BEFORE YOU GO
PHOTO GALLERY
The Most Offensive Beverage Ads