 "Are you wearing a banana suit now?"
The question, posed to me about halfway through an interview with Dada Life's Olle Corneer and Stefan Engblom, sounds serious enough. There's a moment where I actually wonder if I'm going to be hung up on by Swedish house producers. It would be a first, but stranger things have happened -- things like Dada Life requiring journalists in their native country to don bright yellow suits before sitting down for interviews. (I was, perhaps mercifully, a long-distance phone call away.)
Because dance music requires participation, it's almost uncool by definition. There's no room for being "cool" -- not in the way you can be cool at a hip-hop show, where an audience member can choose between losing their mind to the music or adopting a bit of the performer's swagger and subtly nodding with a half-smile. At a rock show, you can either mosh or sing along. But at a dance show (we're talking reasonably aggressive pop-house here), if you're not doing something at least somewhat ridiculous, you're only half there. le
And that's why, from Deadmau5's mouse head to Diplo's suit to Martin Solveig's tennis player headband to the Manufactured Superstars' astronaut suits, the current "wave" of popular dance music is heavy on theatrics. And why shouldn't it be? If tens of thousands -- if not over 100,000, like at this year's Electric Zoo -- of people will show up to sweat under your tutelage, you might as well dress up for the occasion, right?
So there's Dada Life, dousing their fans in champagne (both of the real, wet variety, and larger, inflatable champagne bottles) and passing out bananas to ever-adoring crowds. They're of a similar stature and both have shaved heads. To casual festival-goers, they're virtually indistinguishable. If one of them puts on a Justin Bieber mask, so does the other.
All told, it's an act which requires a certain amount of forethought. But Corneer and Engblom are hellbent on pretending they don't think much at all. "When we tour and go on stage, we don't think so much," Engblom told HuffPost Entertainment. "We just go and have fun. Stupid and strange stuff happens all the time. Banana peels are super slippery, which is good, because if Olle or I slip and get hurt, the other can still jump around."
And yet, they made another album -- something that's only possible with at least a few weeks of thinking and planning. Rules of Dada will be released October 16 in the United States and Canada (a day earlier everywhere else). The disc channels the "real"-life rules the duo routinely tweets out (think Bill Maher, with headphones). These rules range from the practical ("Never BBQ before a gig") to the inevitable ("Arriving beautiful -- leaving ugly") to the vaguely philosophical ("Art should be loud as f--k").
In an exclusive interview with The Huffington Post, Corneer and Engblom boomeranged between getting surprisingly cerebral about their work and maintaining a this-is-just-a-party message.
"We always want to move forward and shock ourselves and the audience when it comes to doing the next track," Corneer said. "By doing an album, the shock effect is even bigger. But it also means that after the album, we really need to re-invent ourselves. So it's a good psychological motivation."
The tracks don't always come quickly. Corneer explains why it took a year and a half to make "Rolling Stones T-Shirt," one of their biggest songs to date: "We tried everything. We tried rock drums, electric guitars and even a strings section. But then we went back and just eliminated all of that. We went back to the original arrangement and added a little electronic bleep." Unconventional samples on the new album: a fork being banged against a table and the sound of someone being punched in the stomach ("We were trying to get that ommph sound you get with a good hit").
Fans of the duo's intense sound will not be surprised to find the album stuffed with full-throttled tracks. "We skipped the ballads and the slow tracks," Corneer explained. "It's just bangers all the way through." Engblom further described the project as "a 42-minute, gory, kind of smash-and-grab soundtrack."
The album features a number of songs that are already out ("Kick Out the Epic Motherf---er," "Happy Violence," "Rolling Stones T-Shirt," and, among others, last month's "Feed the Dada"). When asked how they consistently churn out songs with such a relentless pace, the producers were quick to note -- or, perhaps, admit -- that they create a lot of slower songs. "We just make them and delete them," Engblom said matter-of-factly.
If that mentality -- an obsession with a sound that's often derided as "bro-house" -- seems one-dimensional, it is. Much, if not all, of what Dada Life presents to its fans is experiential. The emphasis is always on the live show. That's why Engblom and Corneer spend time creating remixes that they'll never release -- even when asked by labels or the original artist.
"In the age of the internet, everything is free and available online," Corneer said. "We make it to just have it for ourselves -- you have to have something that no one else has."
Fine -- Let's say we're on board for the Justin Bieber remixes and masks, the spraying of champagne (it's a party, anyway) and the relentlessly energetic bangers. We'll even pretend Dada Life doesn't think much. But why force others into banana suits?
"If you haven't tried something, you should just try it and see if life gets a little bit more fun, or beautiful," Corneer explains. "And it definitely does in a banana suit."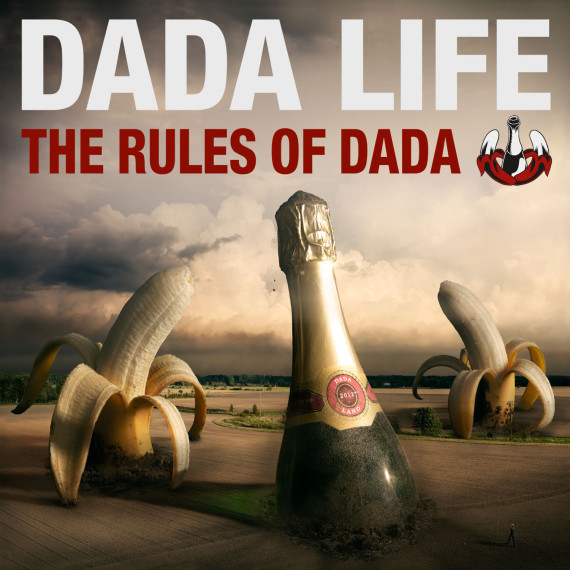 BEFORE YOU GO