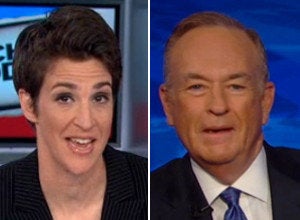 Is a shift happening in the normally frozen-in-place world of cable news ratings?
It's hard to tell, but something unexpected has happened over the last two days: MSNBC has beaten Fox News in the all-important A25-54 category two nights in a row.
TVNewser was the first to spot the trend. While it may not seem like too big a deal for MSNBC to jump ahead of Fox News, it's rather surprising that it is happening at all. The total dominance of Roger Ailes' network is one of the biggest articles of faith in the television business. As Alex Weprin wrote, "The number one show in the demo on cable news is always, always "The O'Reilly Factor" unless there is some sort of unusual news event or huge booking."
But, on both Monday and Tuesday -- with neither a huge news event nor a huge booking -- MSNBC beat Fox News. Rachel Maddow's ratings in the demo on Tuesday were better than Bill O'Reilly's and Sean Hannity's. Lawrence O'Donnell's were better than Greta van Susteren's. Overall, MSNBC beat Fox News 575,000 to 526,000.
Fox News has little to worry about in terms of total viewers; the gap between it and the competition is a huge one. But A25-54 viewers are the most important ones because advertisers set their rates based on how many people in that category tune in. A change in the demo can powerfully affect a network's bottom line. While it is obviously too early to draw any big conclusions, a longer trend would be a very big deal indeed.
BEFORE YOU GO
PHOTO GALLERY
Faces of NBC News