Ever wonder what it would look like if Charlie Sheen and Lindsay Lohan were photographed in bed together? Wonder no more, you masochist! The Weinstein Company and Dimension Films have released a first still from "Scary Movie 5" to Coming Soon, and it features your favorite tabloid fixtures in what could be viewed as a post-coitus moment. (Sorry.)
Lohan and Sheen are set to appear in the film -- though only briefly. It is widely assumed the characters they play will get brutally murdered, as is the custom of the "Scary Movie" franchise, which spoofs the "Scream" franchise, which is a horror spoof in its own right. Earlier this month, Page Six reported that Lohan was balking at the film's script because it cast her in a negative light. She eventually reported to the set after Dimension allegedly threatened legal action, but many were still concerned with her ability to perform.
"Even Charlie Sheen worried she might not be able to do the scene," a source told Page Six.
Check out the new still below. "Scary Movie 5" -- also starring Ashley Tisdale, Erica Ash, Terry Crews, Heather Locklear, Molly Shannon and Kate Walsh -- hits theaters on April 19, 2013.
[via Coming Soon]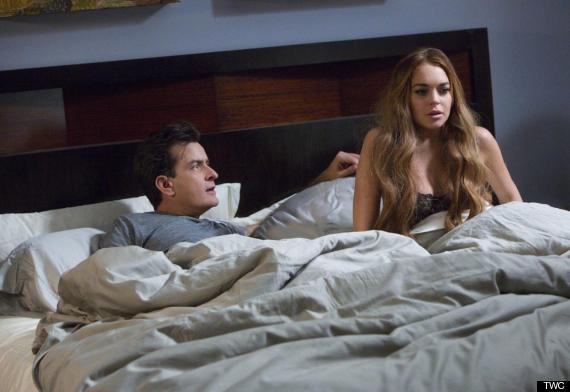 PHOTO GALLERY
Lindsay Lohan
BEFORE YOU GO