UPDATE: Klein Michael Thaxton has surrendered peacefully to police, just after 2 p.m., at Pittsburgh's Gateway Center. The standoff is over.
Earlier:
The armed suspect who has taken a hostage in a Pittsburgh, Pa. high-rise has been identified as Klein Michael Thaxton, 22.
He is currently negotiating with SWAT officers at the scene, which started shortly after 8 a.m. on the 16th floor of Three Gateway Center.
Thaxton has been posting emotional, misspelled tirades on Facebook during the alleged hostage situation.
"I cant take it no more im done bro," he wrote at about 9 a.m. "How this ends is up to yall bro real shyt."
At about 11:18 a.m., at the time of this article's writing, he wrote, "Stop postn silly shyt bruh i aint laughin rite now nigga!"
PHOTO (story continues below):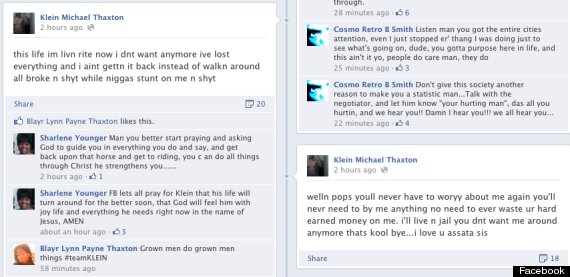 Friends on the page are trying to console him.
"Boogie we love you," wrote Raven Thaxton on his Facebook wall. "Watevers goin on you can get through this .. i love you cuzzo stay strong."
Thaxton reportedly doesn't know his victim and is described as "ex-military" by police, according to the Associated Press. His Facebook page says that he's from the Pittsburgh area, but cops said he doesn't work at the building he's currently holed up in.
There are no reported injuries. Thousands of workers in the surrounding area were evacuated.
UPDATE: Police believe the hostage is the owner of CW Breitsman Associates, the business where the incident is taking place.
Thaxton has a criminal history. In March, he was arrested on suspicion of carjacking a motorist in McKeesport, and then giving chase when police tried to arrest him, according to the Pittsburgh Post Gazette.
This is a breaking news story, and an investigation is ongoing.
GALLERY:
PHOTO GALLERY
Klein Michael Thaxton's Facebook Posts
BEFORE YOU GO
21/09/2012 19:13 BST
AP update on surrender
An armed man who took a hostage inside a downtown Pittsburgh office building has surrendered to police.
Police Chief Nate Harper says the suspect gave himself up after posting Facebook updates in the early hours of the standoff saying he had "lost everything." Harper says the hostage is OK.
Police identified the hostage-taker as Klein Michael Thaxton. Harper had said Thaxton had a military background and was suicidal.
The standoff began Friday morning inside the 16th-floor office of a benefits administration firm.
Harper says Thaxton was cooperative but made no demands.
Thaxton's friends had responded to his Facebook posts by urging him to end the situation peacefully, including one who asked him to think of his mother.
The Facebook page was later taken down.
21/09/2012 19:05 BST
Surrendered
FROM WTOV: After more than a five-hour standoff at Pittsburgh's Gateway Center, a man surrendered peacefully just before 2 p.m. and released his hostage.
21/09/2012 18:00 BST
Klein Michael Thaxton's Facebook page has been shut down
It's unclear who shut it down and why, but Thaxton's Facebook page was shut down, so he won't be making any more posts from the scene. You can read some of his posts here.
21/09/2012 17:42 BST
Standoff ongoing
Negotiations between police and the suspect have surpassed five hours in downtown Pittsburgh.
21/09/2012 17:40 BST
Via @WPXIScott
21/09/2012 17:15 BST
More on Facebook
One friend recently posted this message to him: "Boogie we love you, watevers qoin on you can qet throuqh this .. i love you cuzzo stay stronq"
21/09/2012 17:12 BST
Overloaded with friend requests
Media and those following the events unfold are attempting to "friend" the suspect on Facebook. Sending such a request, however, yields the following message: "Sorry this user already has too many friend requests."
21/09/2012 16:59 BST
WPXI Channel 11 local news station ends its live feed
Note: WPXI-TV has made the decision to take down our livestream coverage of the hostage situation at Gateway Center. We will continue to update you on all of the latest developments and resume the livestream once there are no more safety concerns.
21/09/2012 16:58 BST
"We may be here for a while"
Police Chief Nate Harper, speaking with reporters, discusses the Facebook communication between the suspect and other Facebook users. He says, "It is showing the people are concerned about his well being, it is beneficial."
21/09/2012 16:50 BST
PHOTOS From The Scene People evacuated by Pittsburgh Police from the Gateway Three office building wait outside as the police negotiate with a man who claims to have a bomb in a suite in the sixteenth floor, in downtown Pittsburgh Friday, Sept. 21, 2012. A call about an armed man inside the building prompted the evacuation amid reports of a hostage situation. (AP Photo/Keith Srakocic)