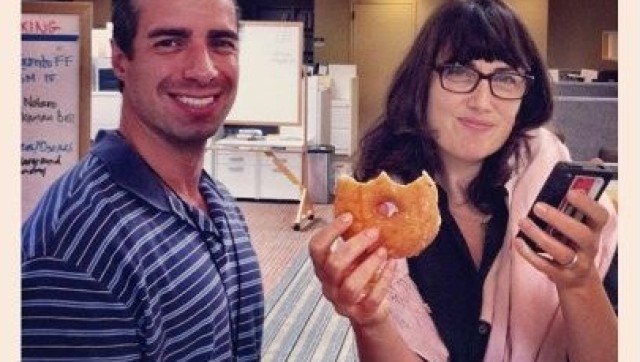 Public radioheads across Los Angeles were shocked to hear Madeleine Brand, co-host of radio program "Brand & Martinez," announce Friday that she is leaving KPCC, LA's all-talk NPR affiliate.
The change comes only a month after the one-hour "The Madeleine Brand Show" was transformed to the two-hour "Brand & Martinez," with the addition of co-host A. Martinez. That move was met with complaints from listeners and also rumors that Brand was not happy about the addition, LA Observed reports.
Brand has been at the station for two years. When her program was added to the station's prime 9 a.m. slot in 2012, listeners complained about the show bumping BBC news.
Now, she will be replaced by Alex Cohen, host of KPCC's afternoon "All Things Considered." Cohen has been on air as a host and reporter for various NPR programs for years and has often filled in on days when Brand was absent. And, knocking the skates off the stale pubic radio stereotype, she's a roller derby girl and has even served as the trainer and choreographer for the Drew Barrymore derby film "Whip It."
Brand's departure follows one of another KPCC host, Patt Morrison, from her program, which was on air for six years. In late August, KPCC announced that it would be dropping its program "Patt Morrison" in order to accommodate the expansion of Brand's lengthened program. Morrison, also a Los Angeles Times columnist, will still host the live KPCC series "Comedy Congress," and her voice will still be heard on various shorter segments throughout the day, Media Bistro reported. Still, Patt loyalists continue to criticize the station for taking her voice off the air.
So despite all the good news at the station -- constant hiring and expansion and the (former?) possibility of "Brand & Martinez" (Cohen & Martinez?) being nationally syndicated -- one thing has become clear. Public radio listeners do not like change.
BEFORE YOU GO