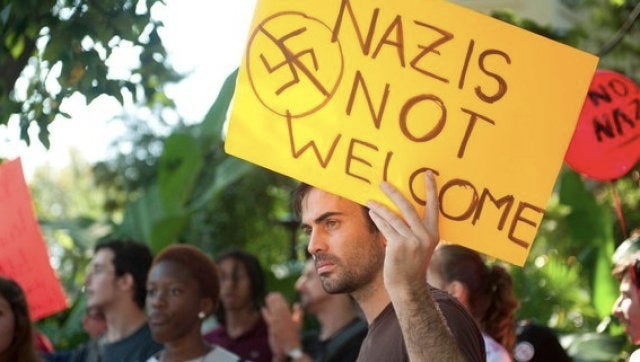 When the charter bus pulled up to Lincoln Park at noon on Saturday, counter-protesters and a phalanx of police officers were waiting. A small group of Aryan Nations protesters -- 14, all told -- filed off the bus and into the park, where they tried to speak out against what they called a genocide being perpetrated against white farmers in South Africa.

The message didn't matter, though -- this small group of avowed racists could have been singing the praises of apple pie, for example, and they still would have been shouted down by a crowd of 150 counter-protesters that was simply indignant that the Aryan Nations would dare come to D.C.
Austermuhle observed that the robust police presence -- with officers turning out from the Metropolitan Police Department, U.S. Park Police and U.S. Capitol Police -- "had seemed like a usual police overreaction at first" but "became wise planning as soon as the march started."
As you can see in the photos below, taken by local photographers Maggie Winters, Steven Gaudaen and Armando Gallardo, counter-protesters spoke out against the Aryan Nations' white supremacist message and blocked them physically, as well, when some protesters stood across East Capitol Street, impeding the small Aryan Nations march, which was ostensibly to protest violence against white farmers in South Africa.
PHOTO GALLERY
Aryan Nations March
BEFORE YOU GO