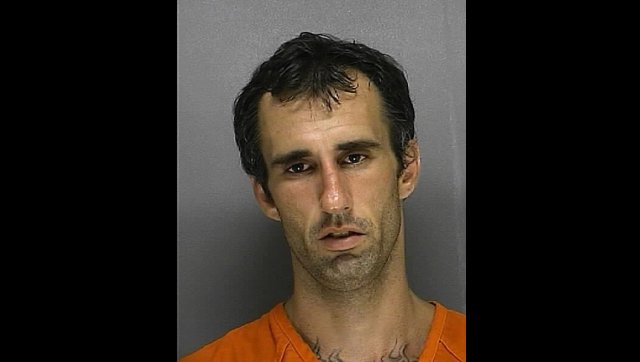 Police in Florida arrested a man who allegedly threatened to shoot a driver if he wouldn't take his pregnant girlfriend to the hospital.
Robert Boudreaux, 31, was driving his 22-year-old girlfriend, whose name has not been released, to the hospital on Sunday for an examination, according to the Volusia County Sheriff's Office. The girlfriend told officials that the couple ran out of gas and walked for several miles before Boudreaux began unsuccessfully trying to flag down cars for assistance.
Finally, he allegedly walked into the road, forcing a vehicle to stop. Boudreaux's girlfriend says the driver refused to give them a ride until Boudreaux threatened to shoot him. When the driver stopped for a red light with the couple now in the car, Boudreaux allegedly said he would shoot him if he did not get out.
The driver exited the vehicle and called 911 after the couple sped away. Authorities ultimately caught up to them in a hospital parking lot in Orange City.
Prior to the carjacking, authorities note, the couple had walked past a fire station, where they did not ask for help. Additionally, neither had attempted to call for help on the two working cell phones they were carrying.
Boudreaux is charged with armed carjacking, fleeing or eluding and driving with a suspended license. Volusia County Corrections records show that this is the 19th time he has been booked into the jail since 2002. His girlfriend is not facing charges.
At least Boudreaux was clothed. In July, Arizona man John Brigham caused multiple car accidents when he went on a naked car-jacking spree.
The year before, a bikini-clad woman hijacked a car in Mississippi before attempting to rob an RV dealership.
BEFORE YOU GO