BROOKLYN, N.Y. -- With each steady stroke, John Lipscomb inched the canoe deeper into an infamous urban waterway. The water surrounding the boat grew increasingly murky; the sulphuric stench more offensive.
"Onward we go into the heart of darkness," said Lipscomb, boat captain for the clean water advocacy group Riverkeeper, as the tips of his oars again disappeared beneath the grey-brown surface of the Gowanus Canal.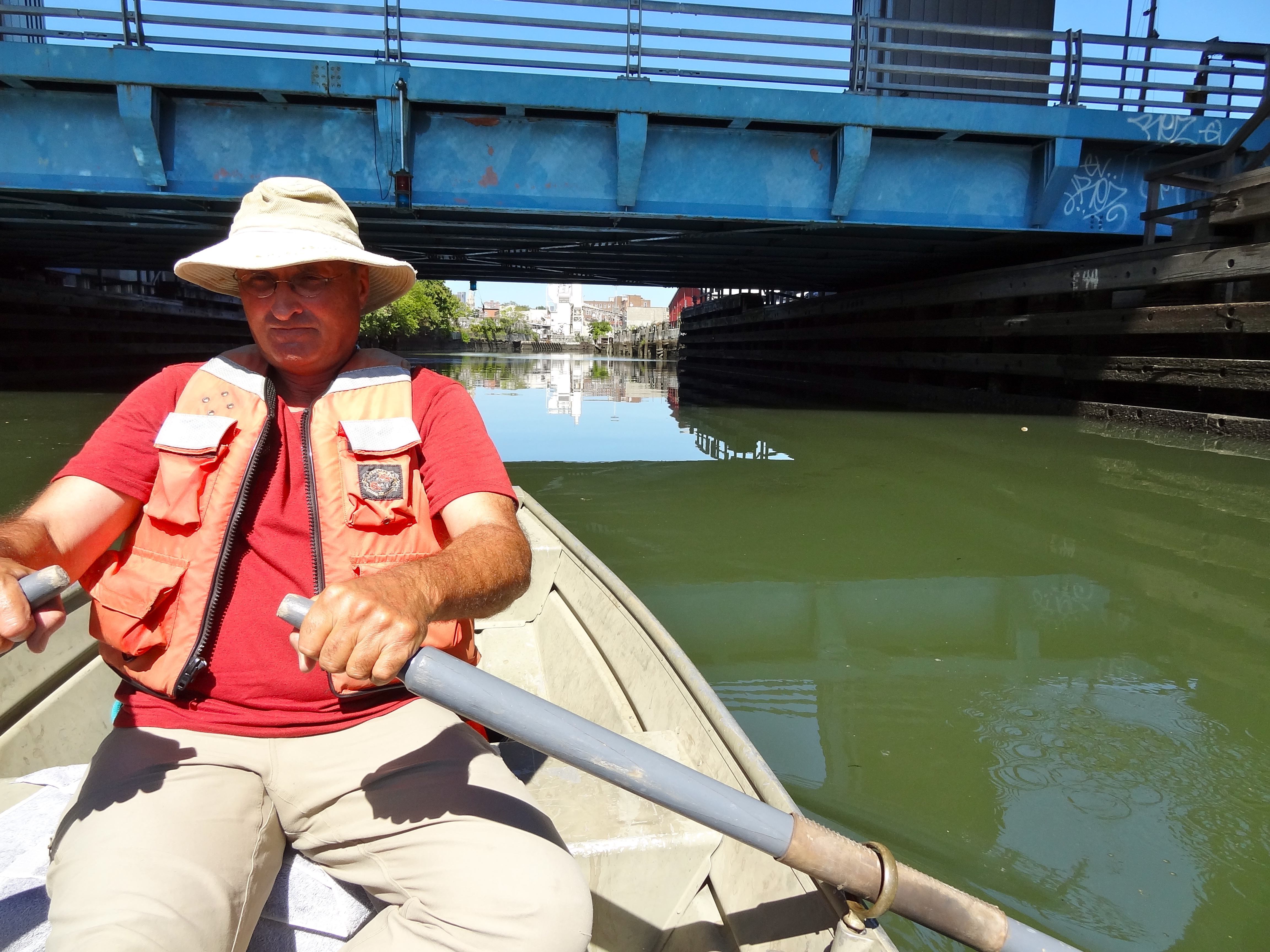 Riverkeeper's John Lipscomb carries passengers into what he calls the "tunnel of hell."
Before long, the floating debris became too dense to outmaneuver. Tampons, condoms and human feces -- mixed with plastic lids, straws and wrappers -- bobbed around the boat, re-assorting with each stroke.
Lipscomb slowed, then filled the noticeable silence onboard: "It's too gross for words."
Although this Brooklyn waterway is an extreme example, its pollution illustrates the often "direct connection between our waterways and our toilets," explained Lipscomb. The common pathway: antiquated plumbing that carries sewage, industrial wastewater and rainwater together to treatment plants. A number of older U.S. communities sit atop these combined systems. Once considered state-of-the-art, today they pose serious problems that go well beyond a noisome nuisance.
A quarter-inch of rain can be enough to overburden the multi-use pipes that serve the majority of New York City neighborhoods. As a result, about 27 billion gallons of the mix spews into the city's surrounding waters annually via combined sewage outflows, so-called CSOs, according to Riverkeeper. Lipscomb noted that about 13 percent of that total is untreated sewage -- more or less during any given overflow depending on how fast the rain falls and how dry it had been prior.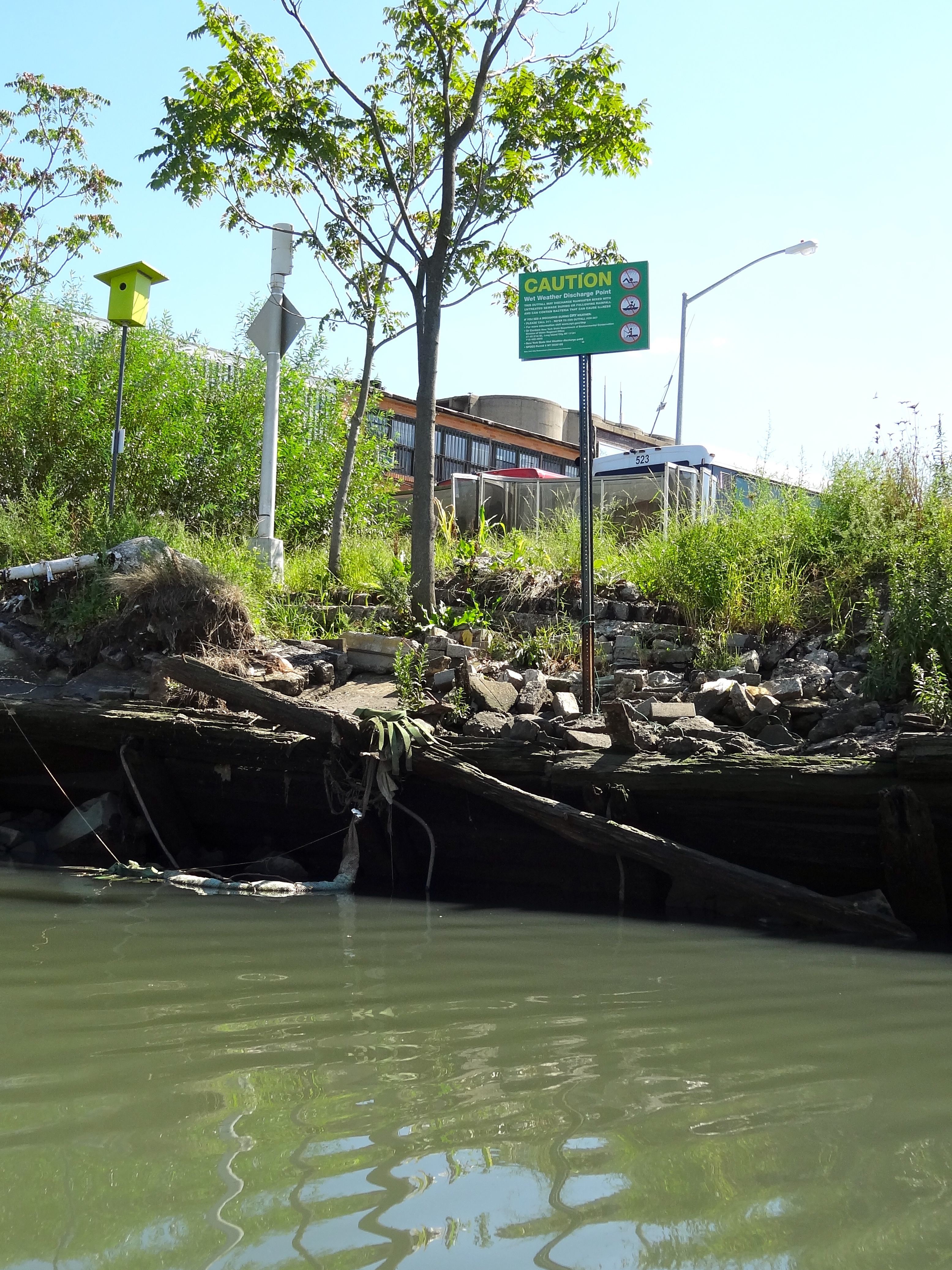 One of 460 CSO signs in New York City, which Lipscomb suggests are a bit deceiving: "It's not like in between the signs is okay," he said. "The whole water is a CSO."
And in some places, such as the stagnant Gowanus, the rain-flushed sewage tends to stick around for a while -- acutely evident on this sunny August canoe ride.
"If people knew of the massive quantities of untreated sewage going into our waterbodies, I think they would be surprised," said Judith Enck, regional administrator for the U.S. Environmental Protection Agency region that includes New York. "I think most people around the country don't realize how serious this problem is. By definition it's underground, so they don't see it."
Of course, many people have seen, smelled or even felt its effects. Every year, 1.8 million to 3.5 million Americans get sick after contact with recreational waters polluted by sewage, according to the EPA. Children are particularly vulnerable to contamination often undetectable by sight or smell. And while the most common ailments are gastrointestinal, the risks don't end there.
"Any pathogenic organism present within the population is also present within the sewage," said Andy Juhl, a marine biologist at Columbia University's Lamont-Doherty Earth Observatory in New York. "So, the sky is the limit."
What's more, CSO's don't just carry sewage. "Everything on a city street comes washing through, including toxic chemicals," said Enck. Seafood and drinking water may also become contaminated.
Despite how bad it may sound, overall water quality in the U.S. has improved significantly in recent decades. People are reclaiming urban waterways to swim, to fish, to kayak. New York City hosted its first annual Ironman Triathlon this summer -- although the swim leg was nearly cancelled due to a sewage discharge along the Hudson River.
"Forty years since the passage of the Clean Water Act, we've made tremendous improvements in water quality throughout New York Harbor," said Angela Licata, the city's deputy commissioner for sustainability, highlighting the October anniversary of Clean Water Act. "Water quality is the best it's been in 100 years."
"We have in fact stopped a lot of the traditional sources of pollution," added Lipscomb, referring to environmental battles to halt the toxic dumping by oil companies, cement manufacturers, beer distributers, even chicken processors along the Gowanus and other New York City waterways. (He recalled once spotting blood and feathers coming out of an outflow.)
Much of that toxic legacy remains layered beneath the water in the sediment, under a coat of sewage, and is marked for removal thanks to the Superfund designation Gowanus received in 2010.
"But after the Superfund effort, there are still gonna be sewers," said Lipscomb. And that brings the ultimate problem much closer to home: our bathrooms.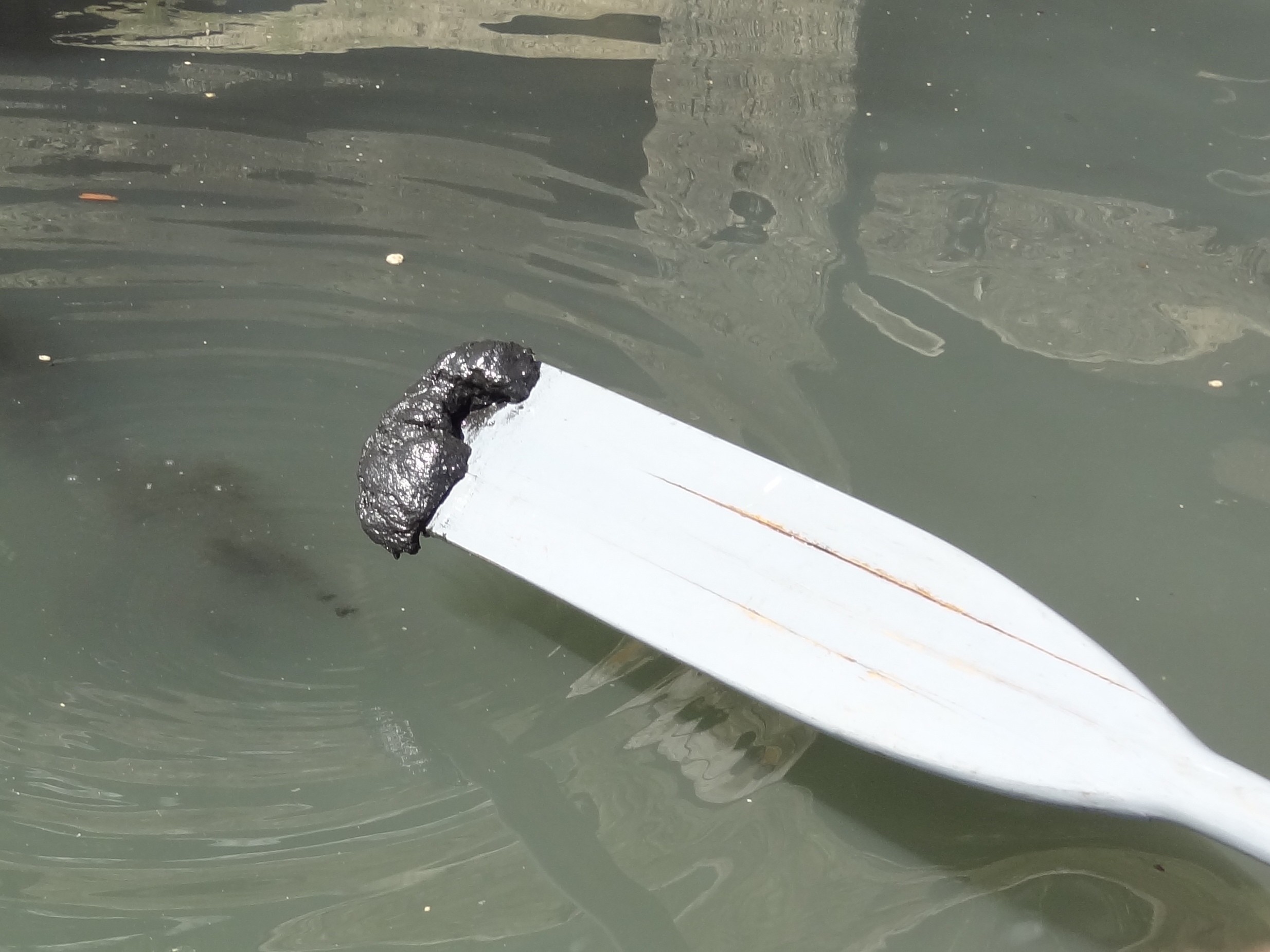 Sewage contamination sticks around, literally.
Lipscomb stuck his oar into the sediment and pulled up a dark glob the consistency of mayonnaise. "It looks like what it is," he said. "This is the whole story."
Continuing through the Gowanus, the canoe is flanked by signs marking the location of CSOs. Straight ahead and just coming into view is a set of side-by-side garage-sized tunnels, which Lipscomb describes as the "big mother of all CSOs." Out of these openings a massive wave of sewage emerged during a September 2010 storm. A video documenting the CSO went viral.
Mitigating New York's CSO problem amid a dense population, a changing climate and tightening budgets is far from simple, according to experts. Replacing miles of plumbing with separate wastewater and sewage pipes, as currently lie under many modern cities, is pretty much out of the question.
Since 2002, New York City has invested $1.7 billion into new storage tanks and other facilities, cutting down the number of CSOs. "But now the choices are getting tougher," said Licata. "We're trying new and creative solutions because we believe they are cost-effective."
A strategy now embraced by New York and a growing number of cities including Syracuse and Philadelphia is green infrastructure -- green roofs, urban gardens, street tree boxes, or really anything that intercepts rainwater from going straight into storm water drains.
"During dry weather, the combined sewage system works very well," Lipscomb said. "Rain is the issue."
The strategy is also cheaper than building more tanks while adding to New Yorkers' quality of life, said Licata.
But to meet its water quality goals, New York is also attempting more controversial projects, including one at another Superfund site, Newtown Creek.
By bubbling oxygen into the waterway from Brooklyn to Queens, the city aims to bring back life that's been stifled by oxygen-depleting sewage contamination. So far, the results look good. But as Lipscomb sees it, the strategy will achieve little more than meeting bureaucratic water quality requirements.
"This is like putting a bucket under a leak in the roof and calling the job done," said Lipscomb. "It is not a fix, just a mask."
A recent study found that the process may stir up the polluted waters and add potentially harmful bacteria to the air. That bacteria might then be carried "a variety of distances," into a neighborhood or even further, said Gregory O'Mullan of Queens College in New York and an author of the study.
"People may not care about water pollution because they don't swim, wade or fish. So there's potential here for us to view the importance of clean water in a new way," said O'Mullan, adding he'd like to ultimately see solutions that "address the cause not the symptom," and notes that people can be part of the solution by minimizing their own water use -- particularly during overflows. (One man has engineered overflow sensors and sends cell phone text alerts to fellow New Yorkers.)
The aeration technique has already been used in wastewater treatment plants with no apparent health effects, according to Licata. She added that the city is in the process of reviewing the new study.
Lipscomb also uses the term "band-aid" to describe the Gowanus flushing tunnel, another CSO-mitigating project scheduled for completion in fall 2014. The tunnel will send sewage overflows away from the Gowanus and into the sewer system. If the system's capacity is exceeded, the sewage could then be discharged into New York Harbor, where the contaminants would be diluted, explained Licata.
As Enck puts it, "the tunnel is not a prevention strategy," but rather "pushes the pollution out into the harbor."
Enck, however, praised another new effort: the June passage of the Sewage Pollution Right To Know Act, which will require immediate public notification when untreated (or partially treated) sewage is discharged into New York state waterways.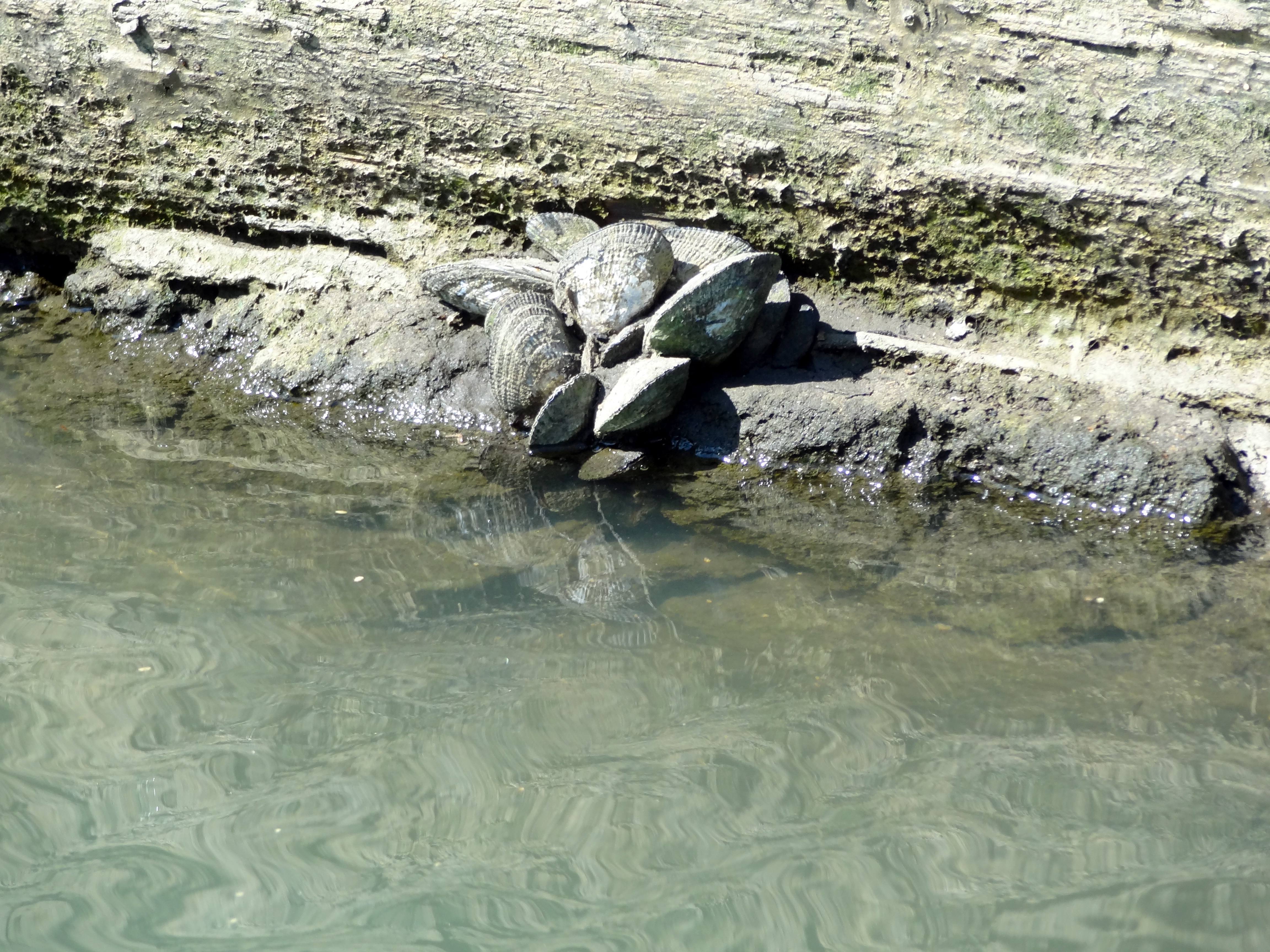 A surprising sign of life: Mussels cling to rock on the edge of the Gowanus Canal.
"We've got to give the public better information on water quality -- not to keep people out of water, but to get them more engaged," said Phillip Musegaas, also of Riverkeeper. "If they know about sewage pollution, they can support measures to address it."
Paddling back toward the opening of the canal, a pair of young adults were preparing to launch their own canoe. Further down, Lipscomb pointed to a clump of mussels clinging to the rocky shore.
"Life is tough," he said. "While looking at this miserable mess, I see opportunity."

PHOTO GALLERY
BEFORE YOU GO
Top 10 Most Polluting Countries (2010)
PHOTO GALLERY
Top 10 Most Polluting Countries (2010)