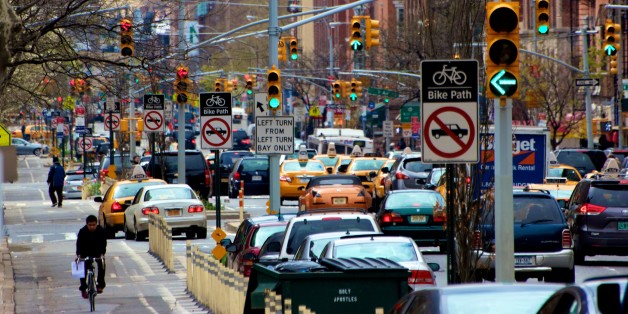 According to new data produced by the Mayor's Management Report, traffic fatalities in New York City have risen 23 percent over the course of roughly one year from July 2011 to June 2012 -- the first increase recorded since 2007.
The New York Times reports 291 people died in that period, up from 236 the year prior.
Transportation Commissioner Janette Sadik-Khan said the city was working to "reconcile" the disconcerting statistics and acknowledged "it does look like there's a rise."
She also added both pedestrians and drivers may be increasingly distracted by smartphones. The report further detailed:
Since Fiscal 2003 traffic fatalities have decreased by 20 percent; fatalities rose to 291 in Fiscal 2012 after
decreasing for four consecutive years. Two-thirds of the Fiscal 2012 increase occurred in the motorist/passenger
category. Preliminary analysis indicates that crashes were concentrated on highways. Speeding, driving while
intoxicated, and running red lights/stop signs were the most common contributing factors, accounting for 54
percent of motorist/passenger fatalities.
But advocacy group Transportation Alternatives previously dismissed the decreased number of fatalities as a reason for praise, as rivaling European cities have only half as many deaths as in New York.
Spokesman Michael Murphy said in June 2011, "For us to pat ourselves on the back to have reduced traffic fatalities as much as we have is to say that those remaining 100 to 300 people a year who are dying is acceptable."
In fact, several high-profile traffic fatalities --including the death of a 30-year-old artist who was struck by a truck in Brooklyn -- have opened the city to sharp criticism from cyclists and pedestrians.
Wednesady's report also revealed felony crimes rose 4 percent, a statistic that mirrors a summer plagued by shootings in New York City parks.
The good news? Street cleanliness ratings received positive reviews.
BEFORE YOU GO