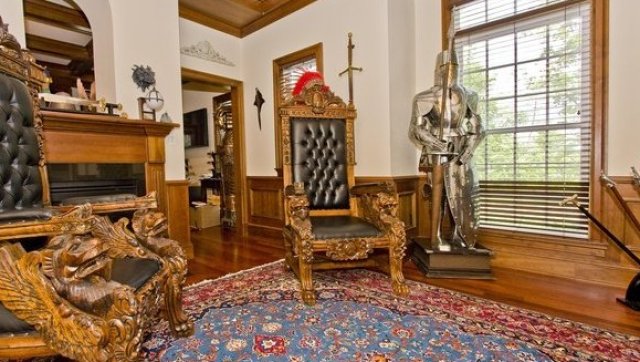 Jim Mitchell designed his 12,500 square-foot custom home in Centreville in part to handle his books.
"I have about 5,000-6,000 books, some old and rare, most historical, and some fiction," said Jim, a principal with Metropolitan Title LLC. "I needed a place to keep them all."
In designing his 2004 Colonial, Jim included a two-room library with hand-cut cherry paneling, wainscoting, and box molding; a double-sided fireplace sits between the rooms. One room is a traditional library with shelving for Jim's extensive book collection. The other reflects Jim's interest in medieval European history with displays of his sword collection, four unusual Gothic chairs, and a knight's suit of armor. Completing the theme is a whimsical pair of dragon wall sconces flanking the fireplace.