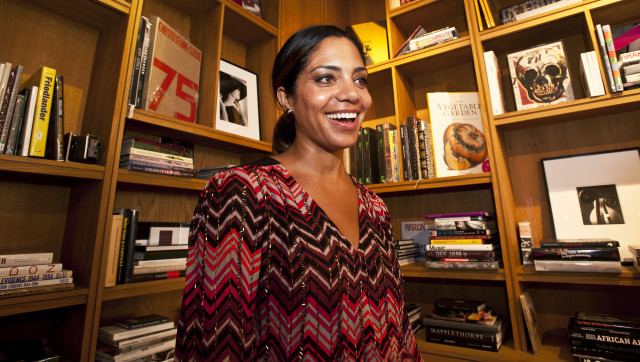 From a perch on the living room sofa, it may seem like Danielle Colding found design stardom this past summer. The 36-year-old former ballet dancer did beat out 11 hopefuls to earn the top spot in HGTV's annual reality competition; but for those who knew her previously (and for HuffPost, who got to know her during a three-hour shopping trip around New York City last month), Colding always was a "Design Star."
"I knew you'd win. I was following along the whole time," said a store employee at Area ID in New York City, who abandoned her post behind a computer to make her way over to Colding through the tightly packed vintage furnishings.
Colding not only finds adoring fans at the 436-square-foot shop at 262 Elizabeth St., but also discovers a selection of mid-century modern treasures and lavish, custom-made fur throws, like the indigo fox piece awaiting approval by rapper Kanye West.
"I wouldn't use her for everyone. There are certain people who are going to get it," Colding said of Area ID's collection and its curator, Inga Davidsson. As Davidsson accompanies Colding around her shop, the fashion designer-turned-collector muses on her trips to Morocco and France and her studies in millinery at New York's Fashion Institute of Technology.
Davidsson's reference to fashion brings the shopping trip full circle, ratifying Colding's fashion-inspired approach to interior design. "I'm a lover of fashion," Colding declared earlier in the day, walking through the newly expanded studio of Leah C. Couture Millinery, where Colding goes not only to purchase new additions for her collection of royal wedding-esque fascinator hats (one of which she plans to wear when she hosts HGTV's "Celebrity Holiday Homes" later this year), but to add to an arsenal of fanciful ideas for the homes she designs.
"I like a layered look and something interesting," she said, recalling her first purchase from Leah C. -- a black beret with a leather tassel that she paired with a striped dress for Russell Simmons' "Art For Life" event four or five years back. "It was a great fashion moment for me ... The same thing goes when I'm designing a house. My clients have ten different sides to them ... I try to bring out those layers," Colding said.
Her muse, Leah C., a character just as colorful as Inga (minus the poppy-red lips), chimed in. "Enough with this casual stuff. You can look good and be comfortable at the same time," she said, describing precisely the kind of easy elegance Colding found at the final stop of the day, Clic gallery and bookstore.
Proprietor Christiane Celle exudes that offhand stylishness. In her thick French accent she explained the evolution of Clic from a bookstore spin-off of her Calypso St. Barth brand to what's now a hybrid of the two. "I was a fashion stylist before, but thought it was better if I did something related to photography and books. I started in 2008 with a little bookstore around the corner and then from the bookstore, the gallery. Every month we have something different," Celle said, rattling off the gallery's rotating lineup of photographers on exhibit.
A new boutique-style annex harkens back to Celle's fashion-styling roots and offers an opportunity to wrap up the shopping expedition.
Colding, on the other hand, wraps up a black-and-gold feather necklace in another successful day of scouting.
PHOTOS: HGTV "Design Star" Season Seven winner and interior designer Danielle Colding demonstrates how she gets ideas at three of her favorite New York City shops.
PHOTO GALLERY
How To Shop NYC Like A Design Star
BEFORE YOU GO