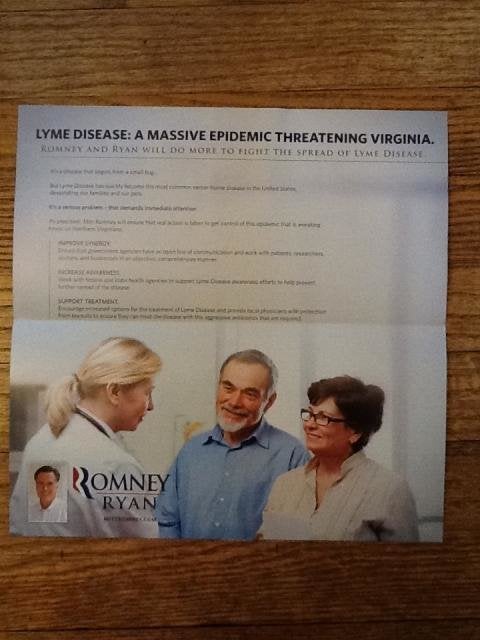 Mitt Romney's message to Virginia voters has been mostly centered around the slow economic recovery and proposed cuts to defense spending. This week, however, his campaign sent a mailer to residents of the northern part of the state that focused on an issue not usually associated with high-stakes elections: Lyme Disease.
The mailer, which was reported on by The Weekly Standard and Mother Jones, calls the disease a "massive epidemic threatening Virginia" and says that the Republican presidential nominee and his running mate Rep. Paul Ryan (R-Wis.) will do more to fight the spread of the disease by "improving synergy" between agencies and "increasing awareness" among the public.
Targeted appeals to a small segment of voters are nothing new in presidential elections, but it's rare for micro-targeting to include Lyme Disease. The campaign's decision to spend such a specific mailer highlights the importance it has placed on reaching suburban voters in the pivotal swing state, where Romney currently trails President Obama 48.4 percent to 45.4 percent.
The Romney campaign has actually used Lyme Disease as a political device before, again in its efforts to woo Virginia voters. As the Washington Examiner pointed out, Romney sent a letter in early August to Rep. Frank Wolf (R-Va.) and Rep. Chris Smith (D-N.J.) commending them for their efforts to combat the spread of the disease.
"I applaud your work to bring attention to the need to address Lyme Disease, which is the most common vector-borne disease in the United States," Romney wrote. "Clearly this disease is spreading throughout the nation. More needs to be done. As president, I will work to ensure that more attention is focused on this important issue."
The mailer's text is reprinted below:
It's a disease that begins with small bug...

But Lyme Disease has quickly become the most common vector-borne disease in the United States, devastating our families and our pets.

It's a serious problem - that demands immediate attention.

As president, Mitt Romney will ensure that real action is taken to get control of this epidemic that is wreaking havoc on Northern Virginians.

IMPROVE SYNERGY
Ensure that government agencies have an open line of communication and work with patients, researchers, doctors, and businesses in an objective, comprehensive manner.

INCREASE AWARENESS
Work with federal and state health agencies to support Lyme Disease awareness efforts to help prevent further spread of the disease.
Photos of the Romney mailer (credit: The Weekly Standard):
CORRECTION: A previous version of this story stated that The Weekly Standard was the first news outlet to report on the Romney Lyme Disease mailer. This is not the case. Additionally, this story previously reported that the mailer was sent out on Friday. According to a Twitter account cited in the Mother Jones piece on the mailer, it was sent out earlier this week and received by some Northern Virgina residents on Thursday.
Have you received a mailer like this? Tell us more: offthebus@huffingtonpost.com
BEFORE YOU GO
PHOTO GALLERY
Mitt Romney's Greatest Hits