Minnetonka Moccasins is accusing Target of knocking off its signature shoes.
On Tuesday, the Minneapolis-based company whose earthy moccasins have been spotted on the likes of Kate Moss and Lindsay Lohan sued Target for trademark infringement.
In court filings, Minnetonka claimed Target copied its iconic "Thunderbird" design, a small, beaded bird on the shoe's toe. Minnetonka has been using the "Thunderbird" on its products for 40 years, the company said.
But according to the lawsuit, just months before Target came out with its moccasin in early 2012, the discount chain approached Minnetonka with a business proposal: selling Minnetonka moccasins in Target stores. Target, which is also based in Minneapolis, "made multiple proposals ... offering 'prime real estate on the floor' of Target stores for the moccasins made by Minnetonka," the shoe company wrote in its initial complaint.
Though Minnetonka turned Target down, many other trendy fashion brands have accepted. Target has managed to cast itself apart from big box stores like Walmart by emphasizing design and negotiating regular collaborations with luxury labels like Jason Wu, Rodarte and Missoni. This year, Target launched a new concept called the "Shops at Target" , giving space in its stores to hip boutiques like New York City's Odin and San Francisco's The Curiosity Shoppe.
But the company has also been called out in the past for ripping off collaborators.
Proenza Schouler, a luxury label that designed a collection for Target in 2007, criticized the company in 2011 for coming out with a $35 Mossimo bag that looked similar to its PS1 messenger bag, which sells for $1,695 or more.
It's not clear exactly why Minnetonka rejected Target's proposal or what kind of collaboration (if any) Target wished to initiate. Minnetonka did not immediately respond to requests for comment Friday afternoon. In an email, a Target spokeswoman said that the company did not comment on pending litigation.
As of Friday, the moccasins were no longer for sale on Target.com.
In a complaint filed in Minnesota federal court, Minnetonka compares its shoes to Target's moccasins: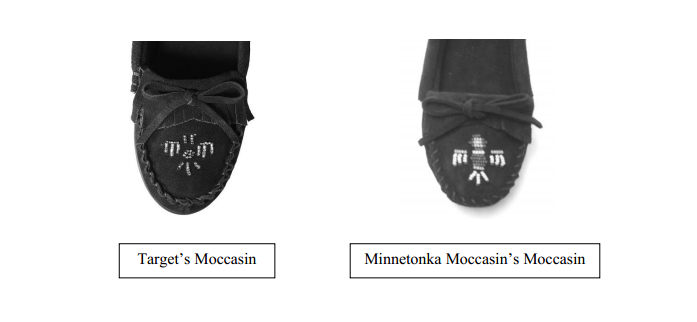 (Photo from court documents)
BEFORE YOU GO
PHOTO GALLERY
Brands That Have Become Ideological Battlefields