Hilary Duff has quickly joined the ranks of Hollywood's most fashinable mothers. And even though she hasn't escaped the typical media scrutiny reserved for new moms (read: the pressure to bounce back to pre-pregnancy weight at lightspeed), she's managed to maintain her fun sense of style.
To celebrate her 25th birthday last night, the former "Lizzie McGuire" star opted for skinny jeans, a silk printed blouse and sexy red pumps -- quite a sophisticated look for a woman who's added diaper duties to her daily routine. Hil also wore some pretty cool wraparound gold bangles, but our favorite accessory had to be adorable baby Luca.
While we definitely commend the actress on her sleek looks as of late, she's definitely got some stiff competition from Katie Holmes' playground-ready ponytails, Jessicas Alba's matching mommy-daughter outfits and Sarah Jessica Parker's rockstar school-drop off ensembles. How do you think Hilary's style compares to her fellow celeb moms? Check out her birthday look below and tell us what you think.
PHOTO: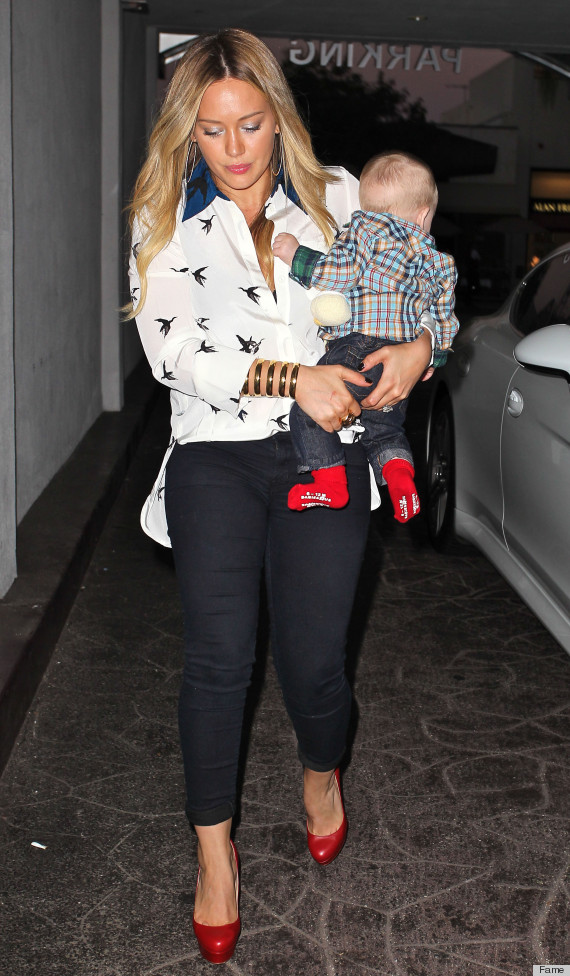 See more celebs with their kids!
PHOTO GALLERY
Celebrity Kids: Out And About
Want more? Be sure to check out HuffPost Style on Twitter, Facebook, Tumblr and Pinterest.