The U.S. Team may have had the more impressive performance on the ground during the early sessions of the 2012 Ryder Cup but the European team has far and away the better air force.
On Saturday, the skies above Medinah have intermittently been marked with brief -- and funny -- messages of support for the European Team. A gambling site based in the UK, PaddyPower.com, claims to be behind the sky writing and is soliciting calls from followers on Twitter for potential "sky tweets" with the hashtag #GoEurope.
Among the early messages that generated a lot of attention, including a post at The Big Lead, was "Seen Tiger? #GoEurope" With Woods benched on Saturday morning for the first time in his Ryder Cup career, he may not have been around to see the words. But loads of others did.
CLICK HERE to visit Paddy Power's blog to see more images from the sky campaign.
Not all of the messages were pointed jabs at the U.S. Team, and its most famous member. One of the sky tweets was a tribute to Seve Ballesteros, the Spanish golf icon and Ryder Cup stalwart who passed away in May 2011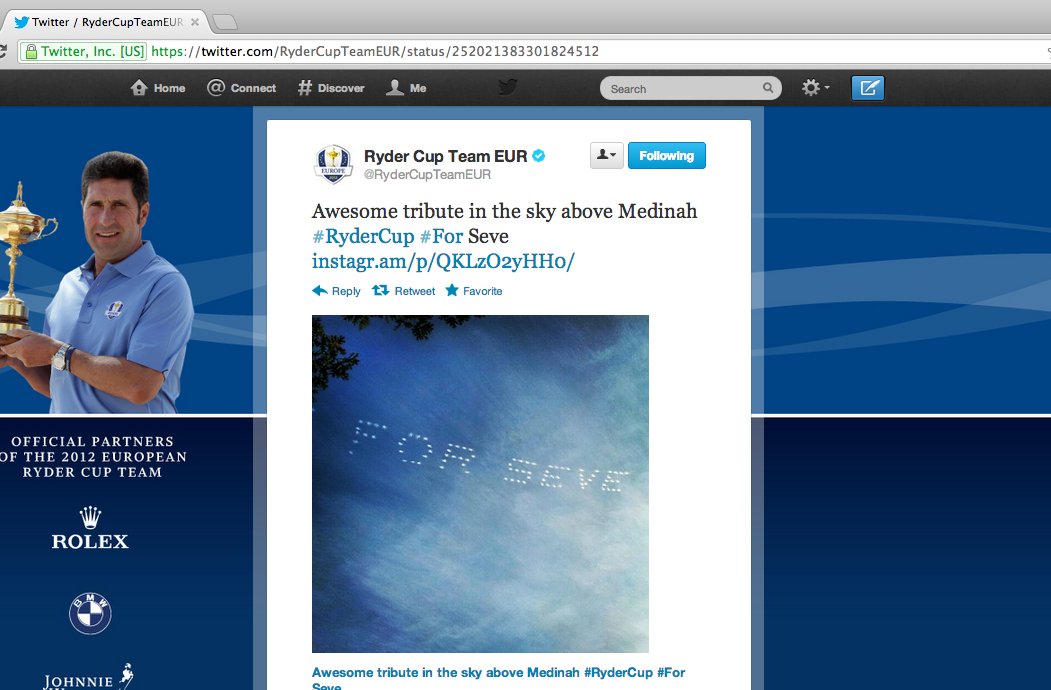 CLICK HERE to view full-sized image.
Here is Paddy Power's YouTube call for messages to "Help A Yank To Shank"
"In previous years we have seen shocking scenes of American crowds heckling and barracking the European players," the founder of Paddy Power told The Guardian before the Ryder Cup.
The tables have been turned.
BEFORE YOU GO
PHOTO GALLERY
PHOTOS: Ryder Cup Day 2