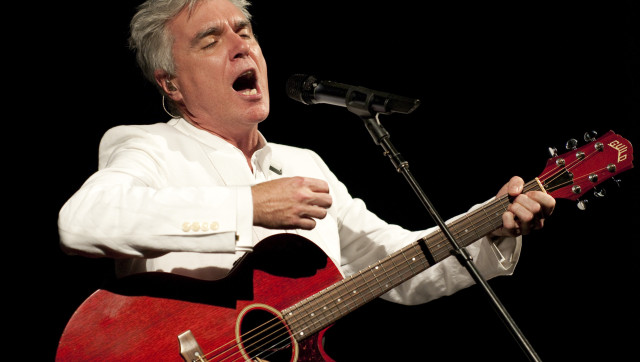 TOP 5 FOR MONDAY, OCTOBER 1
1. David Byrne In Conversation At National Museum Of Natural History
If you weren't able to get tickets for the Bryne and St. Vincent show, how about a lecture? This is pretty much the same thing, right? His new book "How Music Works" is actually pretty interesting. 7 p.m., all ages, $20 to $27
2. Find A Nicole Bourgea Portrait
Are you the subject of one of her AS IS paintings?
3. Blondie At State Theatre
Rock and Roll Hall of Famers. CBGB legends. Punk rock royalty. However you want to describe them, Debbie Harry is still in the band so they get a recommendation. 8 p.m., 18+, $57
4. Autumn Fest At Pizzeria Paradiso
All three locations will be offering pumpkin pesto, pumpkin beer and other season appropriate flavors.
Everyday Is Halloween Pick
5. "The Witch's Curse" At McFadden's
Start the spooky month the right way with this 1962 Italian horror film. 8 p.m., 21+, no cover
TOP 5 FOR THE NEXT 5 DAYS
Tuesday, October 2
Horror Movies at Comet Ping Pong
It's finally appropriate to watch the original "Halloween" with a crowd.
Wednesday, October 3
The Dig at Red Palace
One listen to "I Already Forgot Everything You Said" is enough to convince anyone with a good sense of pop culture that these guys will be big.
Thursday, October 4
Peaches at Howard Theatre
Did anyone think that the restored-to-glory Howard Theatre would be hosting a DJ night from Peaches? This event is a great chance to check out the newish space.
Friday, October 5
Story League at Black Cat
D.C.'s finest truth teller competition returns to the Black Cat Main Stage after their first sold-out show. Yes, a sold-out story telling show in a super big rock club with no official affiliation to "This American Life" or The Moth. Story telling may be the future of rock club entertainment.
Saturday, October 6
Donovan at Hamilton
"Mellow Yellow!" Come on! That song is awesome!