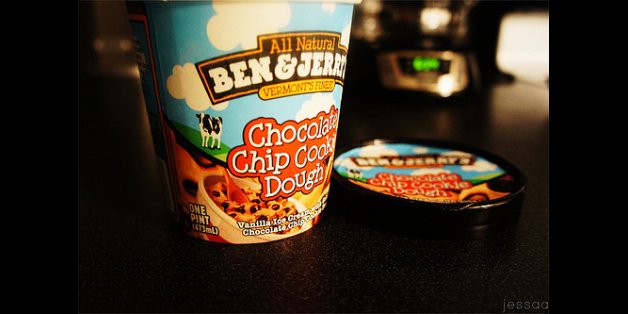 It began with a dream of democracy and free ice cream -- and ended with an ugly battle over a Ford Econoline van.
Occupy Wall Street may be losing its only semblance of a corporate ally, Ben & Jerry's. Ben Cohen, a liberal activist and co-founder of the ice cream company, is trying to repossess the $30,000 van he helped outfit so that the group could project messages onto buildings in New York, DNAinfo reports. The confrontation comes after months of disputes between New York City occupiers and their would-be bankrollers, which include Cohen and other corporate and political leaders.
"I wish them well -- they are doing some outstanding work," said Cohen of the Occupy movement. "I'm focusing my efforts on getting at the root of the problem, which we believe is the corrupting effect of money and politics."
Cohen will soon begin touring the country to promote a new project, the Stamp Stampede, which aims to "stamp" money out of politics by stamping messages onto dollar bills.
Last fall, Ben & Jerry's was the first big company to publicly espouse the Occupy movement, handing out free ice cream to protesters in Zuccotti Park and posting a declaration of support on its website. The goodies helped feed protesters as well as the company's reputation as an independent, liberal brand, an image it has worked hard to maintain since it was acquired by consumer products giant Unilever in 2001.
It's unclear whether Cohen's quarrels with certain protesters will disrupt the company-wide support. Though Cohen and co-founder Jerry Greenfield remain key figures in Ben & Jerry's mythology, they no longer hold management roles. Cohen didn't immediately return requests for comment Wednesday.
In an email, Ben & Jerry's spokesman Sean Greenwood wrote that the ice cream maker has "taken a stand to support the Occupy movement as we felt it matched our company values." The company wants to fight corporate greed, income inequality and money in politics, Greenwood said.
Some protesters see it differently. Donors like Cohen don't "have skin in the game," occupier Priscilla Grimm told The Huffington Post last month.
But it can be harder for brands to leave political debates than to enter them. Ben & Jerry's is not the only company that has to cope with the consequences of ties to a noisy political group. A large number of companies -- including Target, J.C. Penney and Chick-fil-A -- recently took a stand on gay marriage, a move that both brought them attention and implicated them in a vitriolic debate.
Unlike Ben & Jerry's, other Occupy Wall Street supporters from the business world -- such as Seth Goldman, president of Honest Tea (a subsidiary of Coca-Cola), and Dal LaMagna, founder of Tweezerman and CEO of IceStone, a company that makes sustainable countertops -- have maintained a distance between their own beliefs and those of their respective companies.
This story has been updated to include comments from Ben Cohen.