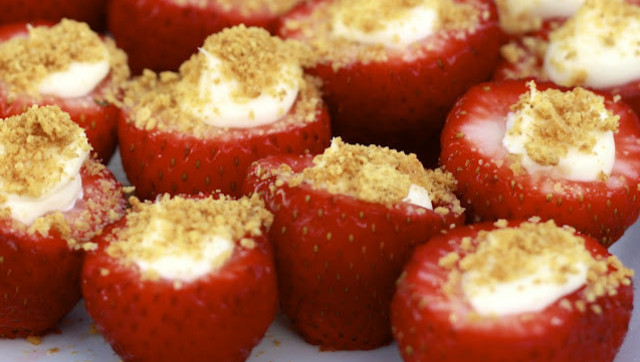 Have you been eating your strawberries au naturale? Covered in chocolate? Well, you've been eating them all wrong. You should be consuming your strawberries with cheesecake, at least according to Pinterest.
Lovers of cheesecakes across the country, we've got good news for you: you can now feel good about your cheesecake consumption. When you add cheesecake filling to your strawberries, rather than strawberries to your cheesecake, you get your daily intake of fresh fruit and your cheesecake fix. It doesn't get much better than this.
These cheesecake stuffed strawberries are one of the most pinned recipes on Pinterest, taking in more than 700,000 pins. That's a whole lot of people who dig these strawberries. We know it's not one of the most groundbreaking recipes we've seen -- like this chocolate chip cookie dough bean dip -- and it's not as eye-catching as other Pinterest food photos, so why is it so popular? Leave a comment below and let us know.
Want to read more from HuffPost Taste? Follow us on Twitter, Facebook, Pinterest and Tumblr.
Get more cheesecake recipes here.
PHOTO GALLERY
Cheesecake Recipes
BEFORE YOU GO