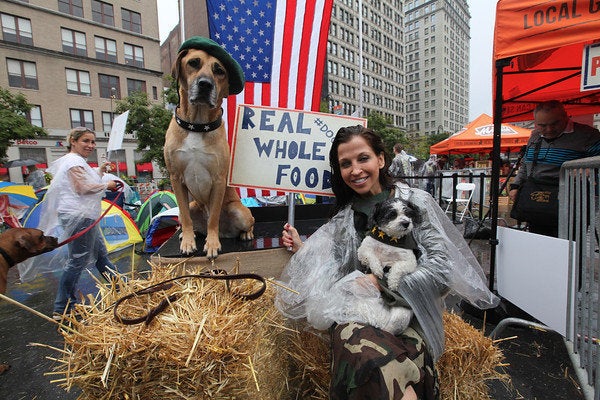 A group of courageous dogs and pet owners gathered in Union Square Tuesday to march alongside their pitched tents, with posters and megaphones in hand.
While the scene may have looked like a flashback to the heyday of Occupy Wall Street, closer inspection revealed the spectacle was actually "Doggupy" -- a movement hoping to bring better quality food for dogs everywhere.
The event was sponsored by Merrick Pet Care, a dog food company specializing in using real, locally sourced whole foods for dogs, to help raise awareness of the nutritional benefits that can come from feeding dogs quality food.
Members of the Mayor's Alliance for NYC's Animals were also present at Doggupy. Steve Gruber, director of the alliance told HuffPost, "We are here today as a partner of Merrick. We represent a lot shelters and rescue groups in New York and want to send the message that dogs in shelters want good food too. Merrick is making a very generous generation with their dog food that we'll distribute to shelters throughout the city. So, we're combining the message that all dogs want good food."
"About a year and half ago I came to the company and we started working towards a food revolution, which was that dogs deserve to eat the same quality of food that we eat," explained VP of Marketing for Merrick Carolyn Hanigan. "We started working on local foods, made only in our kitchen at Merrick, we don't buy any ingredients from China for safety reasons, and we make foods that are really high in protein and low in carbohydrates. All that means feeding only what's good for the dog. It's exceptional food. I did it because I have my own dog who is a King Charles Cavalier and I want him to live as long as he possibly can."
In fact, there are an increasing number of new small businesses dedicated to producing all-local pet food sprouting throughout the country, as more pet owners begin to undersand the benefits of providing quality food for their furry loved ones. To learn more, visit HuffPost's guide to feeding your dogs more eco-friendly meals.
See photos of "Doggupy" below:
BEFORE YOU GO