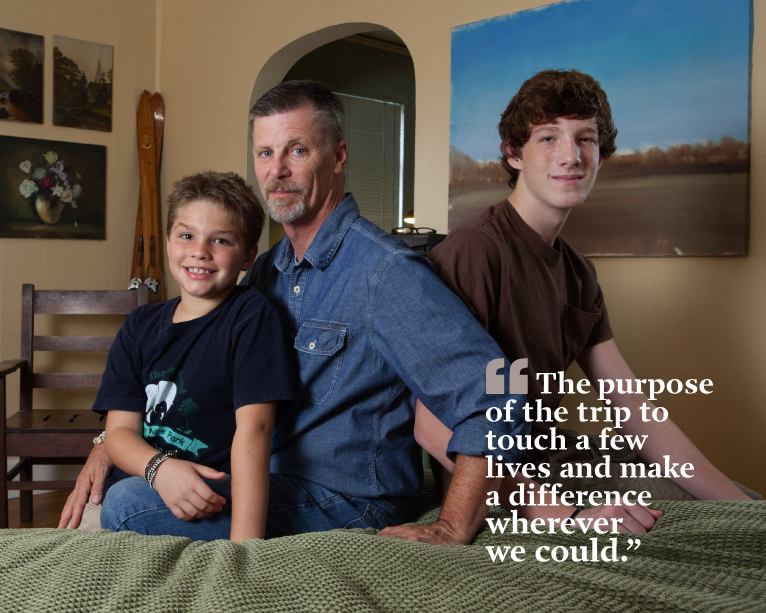 J.D. LEWIS FELT like a big loser. He was quite sure his two sons were going to think he was the worst dad in the world, and quite possibly in the history of fatherdom. His big plan -- for the Lewis family to travel to 12 countries in all seven continents, doing volunteer work for an entire year -- had even been picked up by the local news media in Charlotte, and he worried they'd never be able to raise enough money. Worse, his kids had told all of their friends. He sulked. He was bedridden. Lewis had just about given up hope when he received a surprising email.
"We had gone to a noodle shop," Lewis says. "My phone buzzed, I'll never forget — it was the craziest thing." The sound alerted him to an email from none other than Yoko Ono, who knew of his project through a friend. "I heard about your project," it read. "Just go do it!"
"I emailed her back," recalls Lewis, a Charlotte resident and acting coach. "And I said your single email changed the course of our lives because it made us get off of our butts and do it."
Lewis' NGO, TwelveinTwelve, started after his eldest son Jackson approached him with a meaningful question.
"Jackson came home from school one day a year and a half ago and said, 'dad we have an incredible life, how come we aren't doing more to make a difference in the world?'"
EARLY YEARS
Lewis was in awe of the conscientiousness of his eldest son, recalling his own youth wryly.
"When I was 13 all I cared about was smoking pot and surfing," he said. "And I was a mess of a kid — I lost both my parents, didn't know how to process grief."
Lewis describes his childhood as a Stephen King novel — his mother had died of an overdose and his father took a gun to his head a year later.
Pursuing a career as an actor, Lewis landed many commercials and small acting bits on shows such as Friends. He eventually developed a romantic relationship with director Michael Patrick King (Sex and the City), living together for some time before King's big break. Soon, both men went in different directions. "I said, 'Michael, I'm really over the whole Hollywood thing — I just want to be a parent.'"
Nine months later, Lewis adopted Jackson as an infant. Four years later, he adopted his second son, Buck, now 9. The kids lived in L.A. for a while, growing up on movie sets, until Lewis moved them to Charlotte, N.C., to start a normal life of swim teams
and Little League while he opened up an acting studio.
THE TRIP
After raising $20,000 through a 12K race, the Lewis family were set to take on 12 different locations: Antarctica, Argentina, Australia, China, Haiti, India, Kenya, Peru, Russia, Rwanda, Tanzania and Thailand. Jackson was given the role of global team blogger, while Buck wrote to LEGO asking the CEO to help him share his favorite toy with less-fortunate kids. Crates of legos were subsequently shipped to all locations ahead of their arrival.
Their first stop was Saint Petersburg, Russia, where they worked with a government-subsidized home for runaway children called Transit. The Lewis boys met a Nigerian girl who was sent by her family to work for a pimp who'd abandoned her when she reached the city. Lewis arranged for the girl to contact her brother. By the time they left, Transit was arranging for her to reunite with him in Nigeria.
"When we went to leave she came up to me and said, 'what would I have done if you hadn't been there J.D. You saved my life,'" he recalls in a strained voice.
The premise and execution of TwelveinTwelve is not without its opponents, however.
"A few people have been critics, saying, 'don't be fooled this was just a frivolous vacation.' It was not a vacation!" he says, affronted, recalling the 12 hour work days in the opal mines and remote hospitals of the Australian Outback and the year spent living mostly in huts with no electricity or water.
"The purpose of the trip was to touch a few lives and make a difference wherever we could," he says.
BACK IN CHARLOTTE
Lewis has been busy — when Huffington caught up with him, he had been back stateside for about a month, and was making plans to start helping some
of the organizations from his post in Charlotte.
"A number of them are like, 'Okay! You're home, let's get going!' And I'm like, whoa it's a lot of work — I'm putting together a team of people who are helping me organize a foundation."
Lewis plans on choosing 12 organizations from the countries he visited to address their most pressing needs. He was also given the chance to speak at the DNC to raise awareness about his campaign.
For those who long to pick up and go on a trip like the Lewis boys, he has some advice.
"It's all about having the passion to want to do it," Lewis says. "People have these excuses for why they don't go out and live, but that's all they are: excuses."
This story originally appeared in Huffington, in the iTunes App store.