 Grover Norquist's group, Americans for Tax Reform, is following in the footsteps of Karl Rove's Crossroads GPS with a new mailer attacking Virginia Democratic U.S. Senate nominee, Tim Kaine.
In a flyer sent out this week to Northern Virginia residents, Americans for Tax Reform accuses Kaine of not funding schools in the region in favor of schools in southern Virginia during his last days as the state's governor in 2010. The mailer cites a January 2010 comment from Fairfax County Board of Supervisors Chairwoman Sharon Bulova (D), referring to a proposal for state education funding at the time as a "kick in the teeth."
"When you vote, remember how Tim Kaine mistreated our schools," the mailer reads. "Vote against Tim Kaine for U.S. Senate."
The message is similar to an ad running on Washington, D.C.-area television stations and paid for by Crossroads GPS, which says that Kaine tried to hurt the school system in the Washington suburbs before leaving office. Kaine is challenging former Sen. George Allen (R) for the seat of retiring Sen. Jim Webb (R) in one of the closest U.S. Senate races.
FactCheck.org analysis of the Crossroads GPS ad explains that Virginia state government was in the process of a biennial adjustment of the state's education funding formula at the end of 2009, which would have directed more funds to Northern Virginia to balance out a slump in housing costs. At the time, Kaine proposed a yearlong delay in the adjustment Bulova objected to.
UPDATE: 6:52 p.m. -- Kaine's campaign released a statement from Fairfax County Board of Supervisors Chairwoman Sharon Bulova (D) in response to the quotes from her being used by Crossroads GPS and Americans for Tax Reform in ads.
"Tim Kaine doesn't just have the plan to develop a workforce to compete in a global economy, he also has the record to back it up. Virginia students and businesses can't afford the all cuts approach of George Allen that would gut key investments critical to economic growth," Bulova said in the statement. "Tim's unwavering commitment to providing affordable and accessible education for young people across Virginia has been steadfast throughout his term of public service and I am confident he will give Virginia students the representation they need in the U.S. Senate."
The Kaine campaign also noted that Norquist praised Kaine's 2010 budget proposal, which included the education issues raised in the mailer.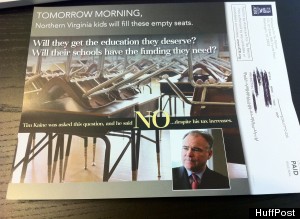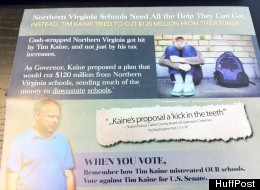 *************************
What's happening in your district? The Huffington Post wants to know about all the campaign ads, mailers, robocalls, candidate appearances and other interesting campaign news happening by you. E-mail us any tips, videos, audio files, and photos to election@huffingtonpost.com.
BEFORE YOU GO
PHOTO GALLERY
2012 Senate Race Polls