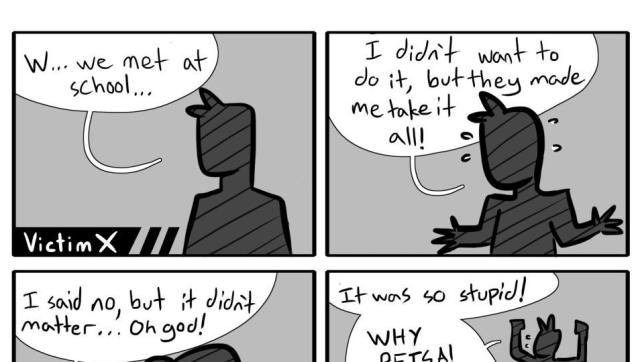 A student at the University of Montana has faced criticism after he published a cartoon in the school paper that likened the school's new sexual assault education program to a sexual assault.
The cartoon shows a masked "victim" who says in caption "I said no... but it didn't matter...Oh God!" The "victim," however, is talking about watching a sexual assault prevention video.
Montana instituted the video program, called PETSA, after Missoula was the site of more than 80 reported rapes over the past 3 years. The campus was subsequently termed the "Rape Capital of America."
The cartoonist, Callan Berry, is unapologetic.
"I'm a satirical artist," Berry told NBCMontana.com
Check out the cartoon below. What do you think? Tell us in the comments section.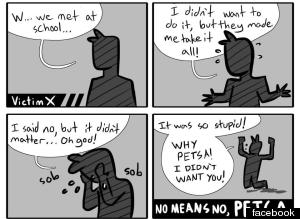 UPDATE: Oct. 8, 4:00 p.m. -- Billie Loewen, editor of the Montana Kaimin, provided The Huffington Post with the following statement:
The cartoon has been widely misconstrued to seem like the message of the cartoon was the opinion of the Kaimin, which is not true. The cartoon was pointing out the feeling on campus, and was drafted after the artist overheard multiple conversations on campus likening PETSA, and the fact that students are forced to take PETSA, to being "raped" by the program. Without spending time on campus at the University of Montana, it is difficult to understand that a lot of people abuse the word "rape," which has a very specific meaning, and use the word to describe anything they are forced to do. "I was raped by that tough test." The cartoon was in no way minimizing rape victims, or being insensitive to those effected by sexual assault. In fact, if you read our feature article "The Other Victim" that ran last week, you will understand we would never minimize or tease victims http://www.montanakaimin.com/features/the-other-victim-1.2920891#.UHMU1ETOT2g. We will, however, point out to students that comparing PETSA to rape is a vast dramatization of ones feelings.
Correction: An earlier version of this article misidentified the university's campus as the site of 80 rapes over the past 3 years. In fact, the statistic refers to the municipality of Missoula, not the university's campus.