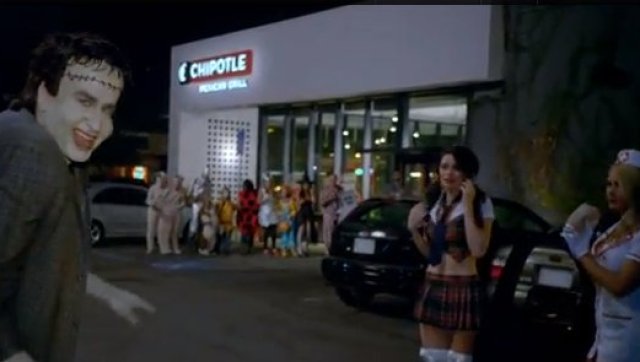 On Halloween, Chipotle will host Boorito 2012, its annual fundraiser, which benefits the Chipotle Cultivate Foundation this year. All you have to do is head over to your local Chipotle in costume after 4pm on Halloween to receive a $2.00 burrito. That is, if you can make it past Scumbag Frankenstein (our words, not Chipotle's).
The reason we're most excited about Boorito 2012? Chipotle's new online ad spot features "The Daily Show" correspondant and comedian Rob Riggle, dressed as the most inconsiderate, criminal and possibly insane Frankenstein we've ever seen. As Frankenstein, Riggle cheerfully explains why he loves Halloween -- the community, the generosity, the joy -- all while knocking kids over, scaring the dickens out of them, smashing pumpkins and stealing toilet paper from a neighbor. We don't want to spoil the whole thing, but he may or may not steal a police car.
Scumbag Frankenstein, we love you.
This delightful short film is notable not only because it features one of our very favorite funny men, but also because Chipotle rarely utilizes video advertisements. It is also worth mentioning that this darkly humorous ad stands in pretty stark contrast to their previous foray into online video advertising, the oddly beautiful "Back to the Start" campaign. The 2:20 ad made its television debut during the 2012 Grammy Awards, which in itself is huge departure from traditional 20 or 30 second ad spots.
The stark differences between these two campaigns make us pretty excited for what might be coming next. We'd like to put our support behind Riggle becoming Chipotle's official Scumbag Spokesperson.

BEFORE YOU GO
PHOTO GALLERY
The Most Offensive Beverage Ads