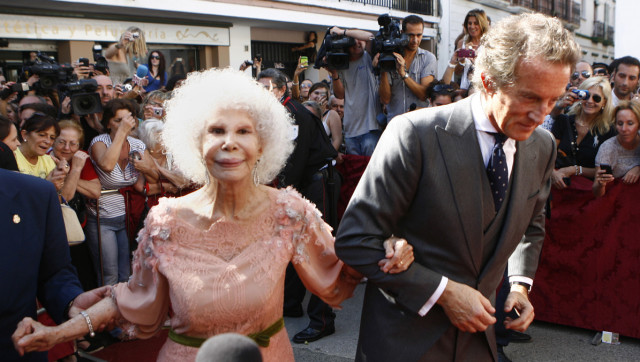 Living proof that it's never too late to find true love, the 86-year-old Duchess of Alba is celebrating her one-year wedding anniversary to hubby Alfonso Diez today. Felicitaciones to the happy couple!
The Spanish royal and her husband wed last year after a rather controversial engagement. You see the duchess, whose full name is Maria del Rosario Cayetana Alfonsa Victoria Eugenia Francisca Fitz-James Stuart y de Silva, possesses more aristocratic titles than anyone else in the world. She also is worth anywhere between $800 million to $4.7 billion, making her children uneasy at the prospect of her marrying a much younger commoner (Diez is 25 years her junior) who the children barely knew.
Anyway, Diez formally renounced any claim to her wealth, got to know the kids a bit and married the duchess in a sunny ceremony in Seville last year. Since then, the pair have been out and about shopping, going to the beach and simply enjoying marital bliss together. Ah, to be... old.
In honor of the couple's first anniversary today, here's a look back at the nuptials (and the bride's awesome pink and green wedding frock!).
PHOTO GALLERY
The Duchess of Alba Weds Alfonso Diez
Want more? Be sure to check out HuffPost Style on Twitter, Facebook, Tumblr and Pinterest.