Miguel Cabrera's Triple Crown win was a victory for the baseball player, whose name will forever be enshrined in sports history. But the achievement was also a win for Major League Baseball, which is now using the opportunity to literally turn dirt into gold.
Just a couple of days after the Detroit Tigers' third baseman Cabrera won the coveted title in a game against the Kansas City Royals, the MLB began selling "commemorative dirt" from Kansas City's batter box. The asking price? A mere $39.99.
Cabrera became the first Triple Crown winner since 1967 after leading the American League in runs, runs batted in and batting average. If you're desperate for more than a piece of dirt to commemorate the win, Yahoo! Sports reports that t-shirts ($24.99) and replica lineup cards from the game ($194.99) are also being sold.
Dirt's not the only odd piece of baseball memorabilia that has racked in big bucks. In 1999, Sotheby's sold Ty Cobb's old teeth for $6,500. In 2002, a man bought a piece of gum that had been chewed by Arizona Diamondbacks outfielder Luis Gonzalez for $10,000.
Here's what the commemorative dirt looks like: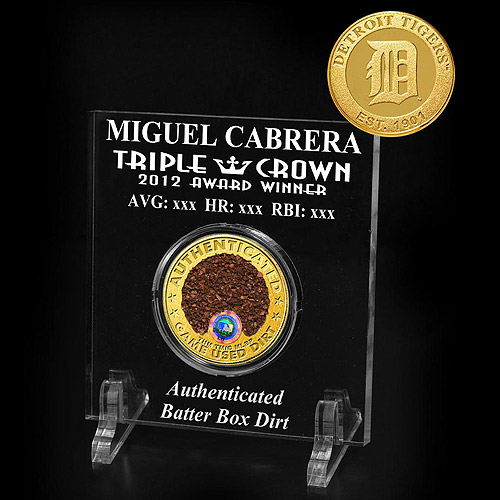 BEFORE YOU GO
PHOTO GALLERY
Craziest Things Ever Auctioned