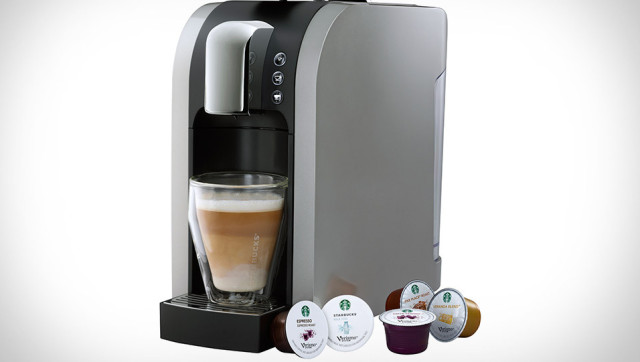 Even though there's a Starbucks location on nearly every corner, the company has now made its coffee even more accessible with the release of Verismo, a sleek Keurig-type machine for your home that brews pods into "Starbucks cafe quality lattes, espresso and brewed coffee using Swiss engineered high-pressure technology."
We know that most coffee drinkers complain about the taste of Starbucks coffee, saying it's too darkly roasted (okay, burned) and that it leaves something to be desired. But statistics speak the truth, and Starbucks made $11.7 billion in revenue in 2011 -- so someone must be drinking the stuff.
Unlike the single-pod machines of yore, Verismo features three different pod types -- espresso pods, coffee pods and milk pods that can be combined in a number of ways to make your own custom drinks. We have to admit the design is pretty sleek, probably fitting on even the most crammed countertops. The cost of the basic 580 model is $199, with the more expensive 585 model coming in at $399 (it has temperature controls and custom controls for drink size).
We at HuffPost Taste were lucky enough to get our hands on a Verismo, and were pleasantly surprised with its success. It was easy to operate, actually sort of fun to play with, and we were particularly surprised at how quickly the machine heats up your water -- the wait between plug-in to pour is only about one minute, which beats the heck out of Keurig machines.
But the real question is, how much does Verismo coffee taste like Starbucks coffee? Here's what our tasters thought.
"The design is beautiful, I love the idea. I love that it steams milk, and my caffe latte tastes just like it came from a Starbucks store. Which would be great if I didn't think Starbucks' coffee always tastes burnt, overly bitter and far too acidic." 
"Somehow Starbucks has learned the art of coffee making through this machine. It made a latte better than I've ever had in a Starbucks coffee shop."
"The latte was milky and smooth."
"I tried the espresso and the house blend. I'm not someone who's that familiar with Starbucks espresso, but I would say the espresso from the machine tasted as genuine and close to the real thing as I could ask for. At no point did I feel the slightest inkling of being duped into drinking fake or knock-off espresso. It was tasty, and I already feel slightly more productive at work."
"I give it an ‪8 of 10 on a scale of all things that have ever existed...‬ War, small pox, sliced bread, etc."
The verdict: We were a little surprised at how much we liked this machine. If you like Starbucks coffee and you want to drink it at home, this is the ticket.
BEFORE YOU GO
In the mood for coffee now? Try these recipes.
PHOTO GALLERY
Coffee Desserts