This week on the Arts & Culture page we prepared "surprised faces" just in case a MacArthur grant came our way and then, dejected, spent a little too long looking at Andy Warhol's pornographic snapshots. But we're not ashamed! Read on for details... Winners for the The John D. and Catherine T. MacArthur Foundation fellowship -- commonly known as the "genius awards" -- were leaked on the New York Times and other sites ahead of the official announcement at midnight on Tuesday. Ranging from conceptual photographers to stringed-instrument bow makers to pediatric neurosurgeons, the list of recipients is an impressive array of the year's brightest creative thinkers.
Of the 23 individuals recognized, the arts and culture honorees include documentary filmmakers Natalia Almada and Laura Poitras, photographers An-My Le and Uta Barth, art entrepreneur and flutist Claire Chase, writers Junot Diaz and Dinaw Mengestu, journalist David Finkel, historian Dylan C. Penningroth, instrument designer Benoit Rolland, and mandolinist Chris Thile. Speaking of mandolinists... At 31, Chris Thile is special in an already special circle: the mandolinist who first won awards as part of the Grammy-winning trio Nickel Creek is this year's youngest MacArthur genius. The annual fellowship grant from the John D. and Catherine T. MacArthur Foundation gifts $500,000 to each genius to spend as his or her genius dictates -- pretty good pocket change for someone who hasn't even been out of college a decade.
When the composer spoke with The Huffington Post this Tuesday, less than 24 hours after the normally top secret list leaked, he talked of a "dauntingly lofty" new personal bar, swearing to us multiple times up and down that he's going to "try so hard to live up" to the standards of a group that includes a neurosurgeon and a telescope designer in its varied ranks. Did you hear that, doubters? Read on for the rest of what Thile said, including what it physically felt like to get the life-changing news, why he kept dodging the call, and his plans for all that cash. Read the interview here.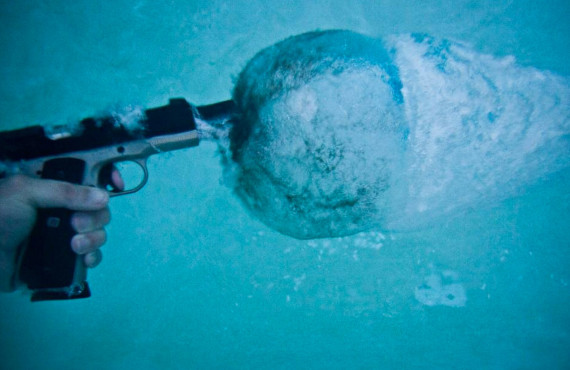 Ever wonder what happens when you combine firearm expertise, underwater experimentation and precious stone collecting? We'd never thought of it until now, but the unexpected artwork of former US Navy Corpsman Andrew Tuohy has us intrigued.
Tuohy runs a blog called Vuurwapen (the Dutch word for firearm), where he provides photos, videos and accounts of testing various gun-related gear. During one such test -- an underwater examination of several different gun shots -- Tuohy was left with jacketed hollow point bullets that resembled flowers.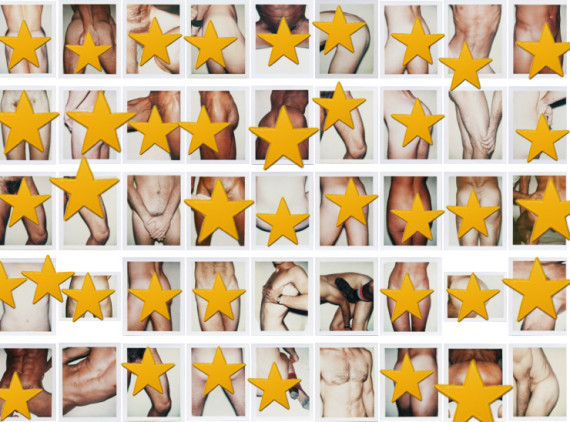 We all knew Pop Art's resident blond was an oddball, but who knew Andy Warhol could get so freaky? An upcoming exhibition in Paris entitled "Torsos" and "Sex Parts" shows the proto-hipster blending the line between art and pornography. The resulting onslaught of stylized man and lady parts resembles an alternate universe, where a collaboration between Robert Mapplethorpe and Dov Charney occurred.
While nude figures and homoerotic sexuality has been dominant in art since classical times, Warhol's artsy crotch-shots evoke the Polaroid porn that was gaining popularity in the '70s. According to The Warhol Museum, the artist was inspired to capture the male sex organ uncensored when a stranger approached him and bragged about his well-endowed anatomy. Soon men from gay bath houses and sex clubs were being recruited to Andy's infamous Factory to offer up their genitalia for 15 minutes of fame.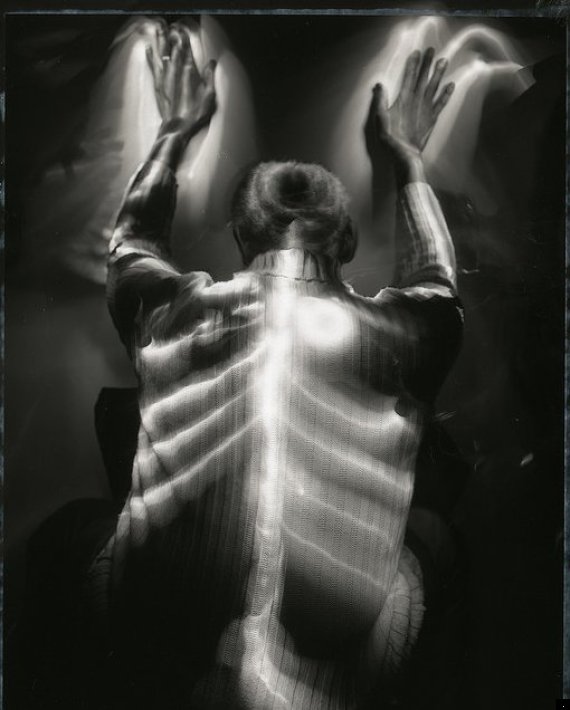 Sonia Soberats is blind, but that doesn't stop her from taking pictures. In fact, the single immigrant mother only picked up a camera after losing her sight in the early 1990s, a loss that in an absurdly tragic twist, was bookended by the deaths of her son and then her daughter. A New York Times profile from this week recounts the unreal career path of the now 77-year-old amateur photographer, who lives and works in Queens and is a member of the New York-based collective Seeing With Photography.
Soberats' sessions start in darkness, part of a century-old photography technique known as "light painting." The technique has been attempted by everyone from Man Ray to Motorola, but the Times details Soberats' particular way of following it: After feeling out her subjects' shape with her hands, she moves deliberately around them holding various light sources (e.g., "flashlights and Christmas lights"), all the while instructing her assistant when to open and close her camera shutter. Her movements determine the look of the image by directing the way the light hits her subjects. The results are otherworldly and often frightening.
Enjoy a lazy Saturday and check back tomorrow for the latest in arts news!
BEFORE YOU GO