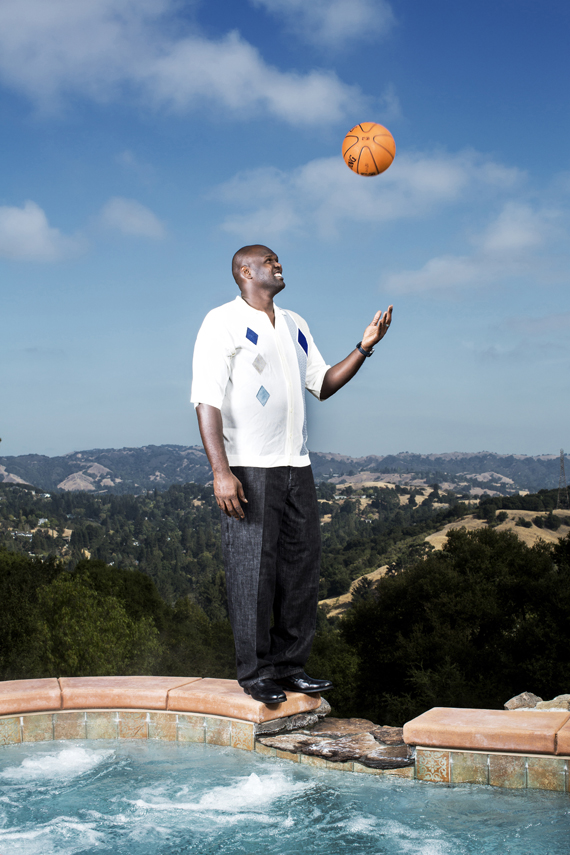 (Photo by Gabriela Hasbun)
Adonal Foyle hasn't followed the typical trajectory of a professional athlete. Adopted at age 15 by two professors from Colgate University in upstate New York, the Caribbean native went on to play 12 seasons in the NBA. Off the court, he's dedicated his time to a decidedly atypical passion for a sports star--campaign finance reform. He founded Democracy Matters, a student activist group aimed at removing money from politics and promoting voter awareness. Foyle spoke with Huffington about his work, the Supreme Court's Citizens United ruling and why he thinks voters should be outraged.
- Mollie Reilly
You grew up on Canouan, a tiny island in Saint Vincent and the Grenadines. How did you become interested in American politics?
Growing up in the Caribbean, politics is very immediate. When you live on a small island that's only 500 people, it doesn't take the law a long time to get down to you, the people on the ground, so I was always aware of politics. If you go back to the islands, from the person who's driving the the taxi cab to the person fishing in the sea, they all are, banana farmers, they're all aware of politics. And then, when you come to the United States and you get the opportunity to learn with people who have been involved in the civil rights movements, like Jay and Joan Mandle, who became my legal guardians—I knew it was a perfect union in many ways.

Where did the idea for Democracy Matters come from?
As I became more familiar with the idea of money in politics, I thought, why would young people get involved in politics when you have to buy $5,000-a-plate dinners to get close to politicians? When you have to raise money for them in order to get them to listen to you? Young people don't have money to give to politicians. We're disenfranchised to a very large degree.
This is the first presidential election since the Citizens United ruling, which allowed corporations to donate unlimited amounts to third-party groups. How has the rise of super PACs changed the game?
I was disgusted with the Citizens United decision, because at its very nature, you're giving corporations personhood and giving them the opportunity to do unprecedented things. There's no mechanism in place to hold people accountable. So I think what's frustrating with Citizens United is that it unleashed even more money in a system that was already very corrupt and polluted in many ways.
What sort of solution are you proposing?
The first thing you have to do is educate people to get outraged when you see the kind of money that has been spent. People are desensitized to the issue of money in politics, but we have to get our population so disgusted by it. The second thing is, it matters who gets elected to office—who appoints the judges, what their ideas are on what is fit and important in a democracy. So we have to get involved in politics so that we can elect people who can change the rules at the highest level.

Did you ever try to get your NBA teammates involved in politics?
Absolutely (laughs). I made sure they all were registered to vote in the different states and made sure they got their absentee ballots. The guys in the NBA, and at almost every level of professional sports, they're very aware of politics. They know what's going on. More than ever, they want to get involved. But they're afraid of the repercussions of getting involved. So when they get the opportunity to do anything, they very much jump at it.
This story originally appeared in Huffington, in the iTunes App store.