We're very excited to syndicate one of our favorite columns, 'What Is It? What Is It Worth?' from one of our favorite magazines, Country Living. All text and images below are provided by Country Living. Get ready to be surprised!
"A few generations back, my husband's family owned a bookstore, where they used this cabinet. I'd love to know if it's valuable." -- K.F., Qualicum Beach, British Columbia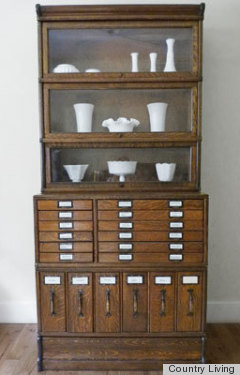 Early 1900s "Modular" Bookcase
Our antiques specialist, Helaine Fendelman, appraises your finds and collectibles.
This attractive oak unit was manufactured by Globe-Wernicke, an Ohio-based company that patented a vertical storage system colloquially known as the elastic or modular bookcase. Composed of interlocking sections, the versatile furnishings were made to order to meet customers' specifications and quickly gained momentum with businesses and libraries in the early 20th century. This heirloom includes five detachable components: tall document files at the base; horizontal rows of shallow drawers in the middle; and three levels of shelves with hinged glass doors, meant to store books, up top. This particular grouping is fairly unusual — combos of four stacked bookshelves are far more common and now garner more than $1,000. With its original glass, hardware, and label intact, your model commands twice that much.
What It's Worth: $2,000
Also check out on CountryLiving.com:
Pumpkin Decorating & Carving Contest