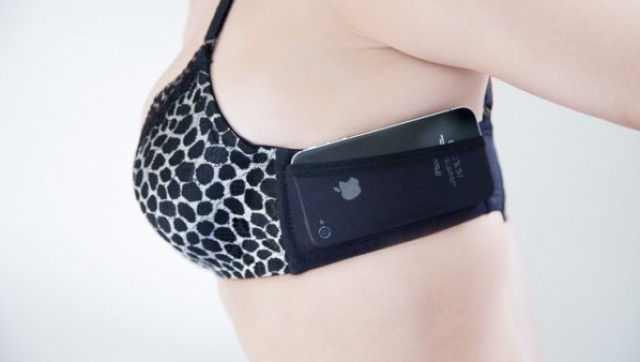 Ladies, have you ever wanted to put your iPhone or your ATM card in your bra for safe keeping? Well, two college students at the University of Washington created a bra in which you can do just that. However, the students are also learning that sometimes, a great idea is unfortunately something that strikes twice, like lightning.
Mariah Gentry and Kyle Bartlow, student-inventors of the so-called "Joey Bra" are facing legal action from Charles Robinson who claims he patented a bra with a pocket in 1999. A judge recently vetoed the students' efforts to throw out the lawsuit.
Gentry and Batrlow are confident they will win the day, however. They released a statement to Geekwire stressing the difference between their design and the patent's claims:
As you can see from Robinson's patent filing, the pocket is located on the inside of the bra near the cup. It is very small, most likely the size of a key. In 1999, it was not designed to store a phone, as our design is today. Being that our pocket covers the whole side of the bra, is on the outside, and is large enough to hold a phone, credit card, ID, etc. the claim of infringement is a stretch at best.
Patent lawsuits are nothing new in the collegiate sector. Recently, the University of California sued Facebook and Disney (among other companies) for patent infringement.