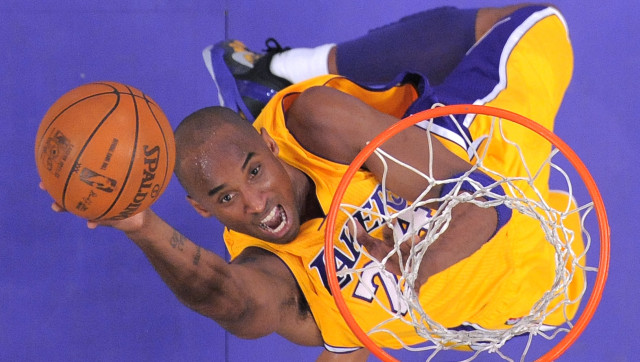 By John Karalis, Crossover Chronicles
One of man's greatest, most consistent pursuits is the effort to stop the hands of time. We, in America alone, spend one billion dollars a year on wrinkle creams. That is a BILLION dollars. On just one product aimed at pretending we do not get older.
But we all do. Always.
Even freakish, once-in-a-generation athletes with access to every possible health advantage and seemingly infinite amounts of money to spend on treatments and time-slowing procedures have to face facts. The miles logged on the court, the landings after dunks, the crashing into larger bodies and unforgiving hardwood all add up for Kobe Bryant.
Speaking with CBSSports.com in a quiet moment after practice, Bryant conceded that, in all likelihood, the finish line and the conclusion of his current contract will be one in the same. Bryant has two years left, and though he was careful to point out, "One can never be too sure," he made it clear in the next breath it's almost unfathomable he would play beyond 2013-14, which would be his 18th season.

"It's just that three more years seems like a really long time to continue to stay at a high, high level of training and preparation and health," Bryant said. "That's a lot of years. For a guard? That's a lot of years."
That is a lot of years. And even if he makes it to 18 seasons, it will be more than that, because he has played 220 playoff games too. By the time the end of the contract comes around, with the players he has got around him now, there is little doubt he will add quite a few more playoff games to that total. It means he probably will have played three full NBA seasons worth of playoff games on top of 18 regular seasons.
But wait! There is more!!
He has played in 14 All-Star Games. Not a huge toll on the body, but it is not the break that a lot of guys get. He has also played in four international tournaments for USA Basketball, taking time away from summers normally spent recuperating.
And therein lies perhaps the biggest strain on a player of Kobe's superstar status. His body has held up through all those years, all those games, all those challenges amazingly well. But while so many guys in the NBA have been out fishing during the All-Star break, or spending a couple of weeks in the Caribbean in July to decompress, Kobe has been mentally preparing for more basketball.
Even for a guy with his level of intensity and focus, that's not easy.
"It's not about health necessarily," he said. "It's about 'Do I want to do it? Do I have that hunger to continue to prepare at a high level?'"
Still, there is a bigger question than even that for Kobe Bryant. "Want" may not be as big a factor as need. And at 35 years old, when the competition stops, will Kobe still need to compete? Will Kobe be OK with sitting at home, watching the Lakers without him? Will he be comfortable with nothing to do?
I will turn it over to Paul Pierce, speaking about another freakish, fresh-out-of-high-school phenom Kevin Garnett... who just, after 17 years in the league, re-signed for three MORE years.
"Kevin's been in the NBA since he was 18. He doesn't know anything else. What's he going to do? He has to come back. When in you've been in the NBA that long — you're fresh out of high school, and then you're talking about you're going to retire — and you're still playing at a high level, and it's like: What else are you going to do? This is in his blood. This is what he was born to do. For him to be playing at a high level ... and with his competitive spirit, I knew he wasn't going anywhere."
You can replace "Kevin" with "Kobe" and it would mean the exact same thing. The point is exactly the same.
Basketball is all Kobe knows. He has spent literally half his entire life in the NBA. HALF!
How do you just walk away from that at 35 years old? How do you, when that first July without an NBA contract comes around, just leave? Can you?
Or will Kobe, even with his iron will, finally, for once, be like everyone else in the NBA and not want to leave? Will he have the same feelings that made Brad Miller cry? Will he be institutionalized?
At some point, he will have no choice. At some point, it will all catch up to him. But until the choice is no longer his, it is hard to believe he will make any choice that takes him from the only thing he has ever really known.
BEFORE YOU GO