It may have been a tough pregnancy with a lot of ups and downs, but Tori Spelling's baby boy is finally here.
In the new issue of Us Weekly, on newsstands this Friday (October 12), Spelling introduces her fourth child with Dean McDermott, son Finn Davey.
Finn was born on Aug. 30, after Spelling was diagnosed with placenta previa, a condition in which the placenta covers the cervix, leading to internal bleeding during pregnancy. The risk of death was so high that the 39-year-old almost had to terminate her pregnancy at 20 weeks. Luckily for the McDermotts, Spelling fought through her illness and gave birth to the family's sixth member after enduring nine massive bleeds.
"I just remember thinking, I can't leave three children behind," Spelling tells the magazine of Liam, 5, Stella, 4, and Hattie, 12 months. Her diagnosis was partly due to the fact that she had three previous C-sections and conceived Finn just one month after giving birth to Hattie.
But despite having to undergo emergency surgery following Finn's birth, Spelling is thrilled to be past the terrifying ordeal and is looking forward to raising her family.
"When they put him in my arms I was like, 'We made it.'" she says. "We have an insane bond. We've been through hell and back."
See the first photo of Finn Davey below on the cover of Us Weekly: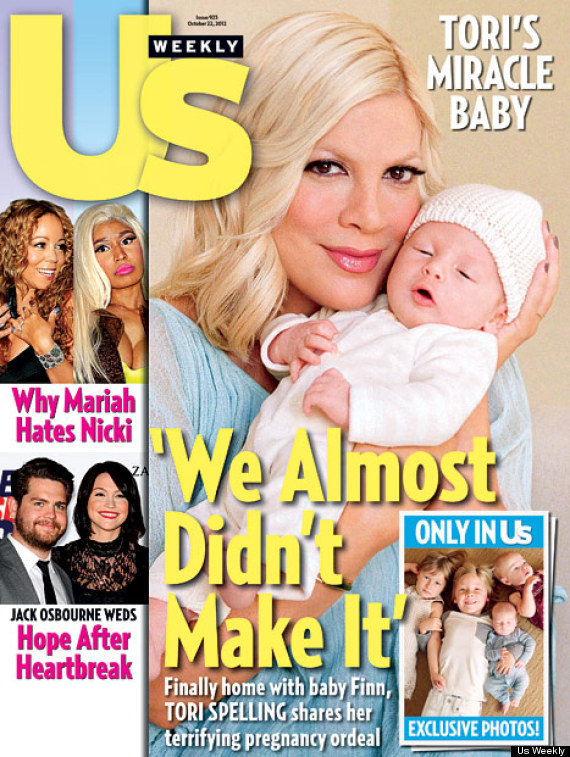 BEFORE YOU GO
PHOTO GALLERY
Celebrity Babies 2014