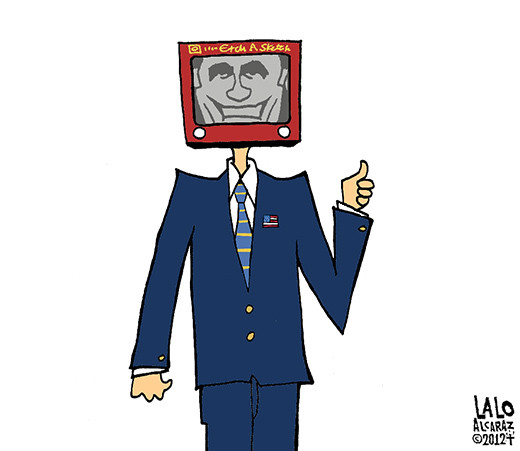 What a difference a week makes. Thanks to his strong and decisive performance at last Wednesday's presidential debate in Colorado, Mitt Romney has closed the gap with President Obama and has turned around a campaign that was suffering through a terrible few weeks.
But it was that very debate performance which sowed the seeds for a whole range of attacks on the GOP candidate, as critics called out the many inaccuracies he claimed on stage in Colorado, and forced his campaign to clarify his positions.
It was all to be expected perhaps, considering the campaign's stated intent to erase all the positions taken by Romney during the Republican primaries, as top adviser Eric Fehrnstrom predicted in March:
Well, I think you hit a reset button for the fall campaign. Everything changes. It's almost like an Etch a Sketch. You can kind of shake it up and we start all over again.
Scroll down to see more examples of Lalo Alcaraz's work.
About the artist:

Lalo Alcaraz is perhaps the most prolific Chicano artist in the nation, according to his own bio. Lalo has been busy for over two decades chronicling the political ascendancy of Latinos in America and vigorously pushing the boundaries of Chicano art in the Post Chicano Art Era.

An award-winning journalist and illustrator, Lalo is also an author, faculty member at Otis College of Art & Design in Los Angeles, and radio host. He is also the creator of the first nationally-syndicated, politically-themed Latino daily comic strip, "La Cucaracha."

Lalo's most recent project is a re-boot of the famed Pocho.com, his pioneering humor, satire and cerveza webzine/blog/news site.
PHOTO GALLERY
The Political Satire Comedy Of Lalo Alcaraz
BEFORE YOU GO