One Direction is gearing up for a big month this November. The British pop sensations' sophomore album "Take Me Home" is being released November 13 -- the same day they'll perform it live at Rockefeller Center -- and the guys just landed their first Seventeen cover for the magazine's November 2012 issue. In their Seventeen interview, the guys dish on dating, flirting, being the "bad boy," and their most embarrassing moments. Scroll down to view the full cover.
Niall Horan opened up about his rumored relationship with singer and "X Factor" judge Demi Lovato. With flurry of speculation around whether "Nemi" are actually an item, both stars have yet to confirm that any rumors about a possible relationship are true. In the November issue of Teen Vogue, Demi said that Niall is a great guy -- but he isn't her boyfriend. However, she recently told a British tabloid that they were "loosely dating."
Although Niall has also been tight-lipped about their relationship status, he openly discussed his friendship with Demi and respect for her.
"The nice thing about Demi is, once you know her, she's really, really beautiful," he told Seventeen. We became good friends. It's so crazy that she can be so honest about everything she's gone through. She has a fantastic attitude. If I ever needed anything or needed to talk to anybody, I think Demi would be the person to talk to."
Harry -- the self-professed "flirt" of the group, who is often the target of dating rumors -- talked about his reputation as a ladies' man. Having been romantically linked to a slew of older women, the singer admits that he may be a little "too flirty."
"I wouldn't say girl-crazy, because that makes me sound like a bit of a womanizer," Harry said in the interview. "That isn't really me. But I am quite flirty -- maybe too flirty. I'm an 18-year-old boy, and I like to have fun!"
While Harry claims the title of bigggest flirt for the group, One Direction's resident bad boy Zayn has earned a reputation for being something of a rebel with his edgy fashion choices, skateboard and many pieces of body art. The singer admits that the label isn't entirely off-base.
"I like to use the term misunderstood," he said. "But I am a bit of a bad boy. I have tattoos and I mess around. That's part of my image, so it's cool."
Liam also opened up to Seventeen about being bullied, and Louis shared a story of the most embarrassing thing that's happened to him since the band became famous.
"One time Harry and I were skiing together when a girl and a guy came up with a camera," Louis told Seventeen. "We assumed they were going to ask us for a photo, so we stood there with our arms around each other, posing. They said, 'No, we want you to take a photo of us!' It was embarrassing!"
For more on the guys from One Direction, and a chance to meet them in person, head over to seventeen.com or pick up a copy of the November issue of Seventeen, on newsstands October 16.
Do you think Niall and Demi would make a good couple? Are you excited for Take Me Home? Tell us in the comments below or tweet @HuffPostTeen!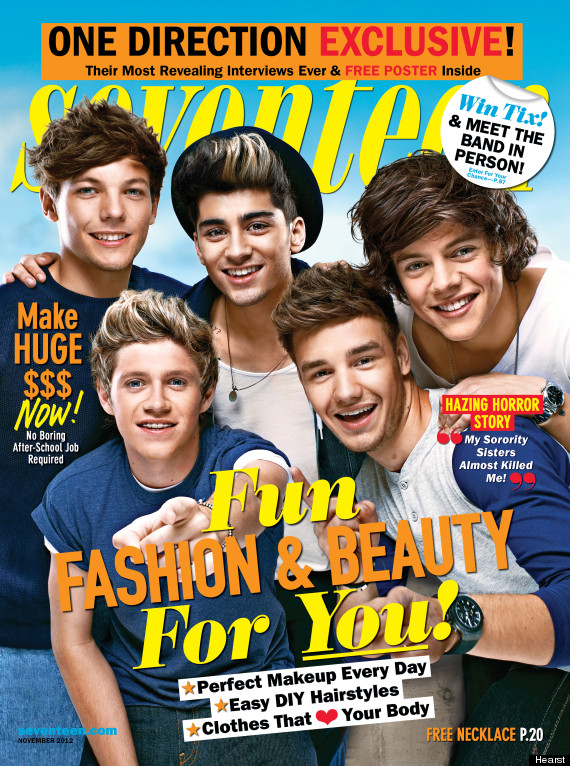 BEFORE YOU GO
PHOTO GALLERY
Best One Direction Tweets