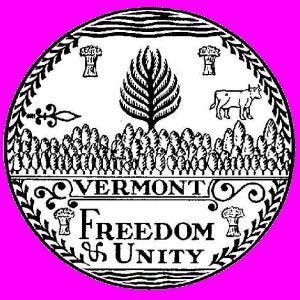 A Republican super PAC in Vermont with ties to a Paul Ryan and Michele Bachmann donor has pulled two ads using the state seal that a Vermont official deemed illegal.
Vermonters First, a super PAC funded by Republican activist Lenore Broughton, had used the state seal on ads promoting the campaigns of Republican state Senate Minority Leader Vince Illuzzi for state auditor and Republican Rutland city Treasurer Wendy Wilton for state treasurer. State Democrats objected, noting that Vermont law prohibits using the state seal for advertising. Vermonters First is the second Republican group in the country in recent weeks to drop campaign ads for misusing a state seal.
Vermont Secretary of State Jim Condos (D) told HuffPost that his office contacted Vermonters First on Wednesday, after Democrats complained, to say that the ads do not conform to state law. Condos said the law allows the seal's use in commercial items, including medals, but would need permission from his office. He said Vermonters First contacted him to say it was pulling the ads.
Condos said it's common for his office to warn advertisers about use of the seal. Those convicted of misusing the seal could face a fine of up to $1,000 and up to a year in jail.
The Burlington Free Press reported Wednesday that Vermonters First spokesman Tayt Brooks said the ads were taken down . Brooks told the newspaper the super PAC was unaware of the law. The state Democratic Party issued a press release on the issue late Wednesday morning.
"In a race where a super PAC funded by millionaire Lenore Broughton is already spending its money to lie to Vermonters, every detail counts," Vermont Democratic Party Chair Jake Perkinson said in a statement. "Tayt Brooks and Ms. Broughton should take down their ads and stop misusing the Vermont state flag and coat of arms for partisan purposes. Vermonters deserve and expect all players in this race to obey the law, Vermonters First is no exception."
Broughton is a longtime Republican donor in Vermont who founded the super PAC earlier this year. The Vermont Press Bureau reported that Broughton's past donations have gone to Ryan, the Republican vice presidential nominee, Bachman, the Minnesota congresswoman and former presidential candidate, and outspoken Rep. Allen West (R-Fla.). Wilton is challenging Democratic state Treasurer Beth Pearce, while Illuzzi faces Democratic businessman Doug Hoffer for the auditor's office.
In September, University of North Dakota fraternity members John Mitzel and Ross Lien, both Republicans, pulled an ad featuring the state seal in their races for seats in the state House and Senate, respectively.

BEFORE YOU GO
PHOTO GALLERY
2012 Senate Race Polls