Residents near 9th Ave and Colorado Blvd. who were opposed to a Walmart being built in the area won a big victory Tuesday -- Walmart has decided to pull out of the proposed redevelopment of the University of Colorado medical campus.
After weeks of heated meetings, cheers erupted from the attendees of the neighborhood meeting when the announcement that the controversial retail giant was abandoning the project, The Denver Post reported. Denver Mayor Michael Hancock, who was reportedly in favor of the project at one point and attended the neighborhood meeting said that the city is not giving up on redevelopment of 9th and Colorado, but that the city "wants a project you can be proud of that creates jobs and reinvigorates the area. The last thing we want is to see this site boarded up for another decade."
Jeff Fuqua, the developer behind the redevelopment project involving Walmart, wanted to turn the old, abandoned University of Colorado Hospital property into a proposed mix of luxury apartments, dining and retail options, all anchored by what was described as an upscale Walmart.
On their website, the Do It Right At 9th team posted this victory announcement Tuesday offering both congratulations and calling for continued focus from supporters:
Today our neighborhood has achieved a major victory! Walmart has announced that they will walk away from the 9th and Colorado development. Please visit www.doitrightat9th news links and the statement from our organization. This major victory would not have been possible without all of our neighbors coming together in opposition to Wal-mart and in support of the a better plan for 9th and Colorado. We are overwhelmed by the impact that our neighborhood has made by standing up together for our community! Congratulations and thank you!

However, this is not over. We must demand the right development for our community. Unfortunately, the developer wants to move forward with his plan including big box retail. We plan to send a survey to gather feedback from the neighborhoods about what type of development you would like to see at 9th and Colorado. This survey will be critical as we work to influence the developer (Fuqua), the City and CU on a plan that works for the surrounding neighborhood and is truly beneficial for all of East Denver.

We mentioned in last week's newsletter, Stop Walmart Colorado has changed names to Do it Right at 9th. Our new name represents what we are- a group of neighbors that have come together to push for responsible, sustainable development on the old CU Health Sciences Center. We hope to see real placemaking here instead of a bunch of chain stores.

Please stay tuned. Do it Right at 9th will be your hub for engagement in the redevelopment of 9th and Colorado. Please keep your yard signs in the ground until we have future direction from Fuqua and CU about the next steps. Showing your support through yard signs and your continued engagement is critical for the right development on this prime piece of real estate.
9News reports that developer Fuqua does plan on moving forward with redevelopment, transforming the old medical campus into a mix of retail and residential areas, but it won't include a Walmart. "It'll look simiar," Fuqua said. "But we're going to have to restructure the financial aspects and some of the design elements of the project to do it without Walmart."
Regarding their pulling out of the project, Walmart said this in a statement, via Fox31:
While Walmart will not be part of the planned redevelopment of the former University of Colorado Health Sciences campus, we will continue to evaluate other opportunities to serve Denver area customers and expand access to affordable groceries.

We are proud to operate dozens of stores in the metro area, including several in the City and County of Denver. Our reputation as a good employer and valued retailer is supported by the fact that everyday thousands of local residents choose to work at Walmart and every week hundreds of thousands of customers shop our Denver area stores. We appreciate their vote of confidence and remain committed to working with the City and County of Denver and local communities to help create jobs, spur business development, and help residents save money.
However, many residents in neighboring Congress Park and beyond were so against the idea of a Walmart in the area that they put up red yard signs, like the one below, with bold, white text reading "NO WALMART," from Denis Moynihan, creator of the StopWalmartColorado.com website which has rebranded itself as "Do It Right At 9th" on Tuesday. Residents donated $10 to the cause and got a yard sign of their own to voice their opinion about the big-box behemoth setting up shop.
Although in that same area near 9th and Colorado other chain stores are being proposed like Trader Joe's and Chipotle, residents were not concerned by those stores CBS4 reported, it was specifically Walmart and the impact it makes on a region that concerned area residents.
LOOK: "No Walmart" sign, via StopWalmartColorado.com: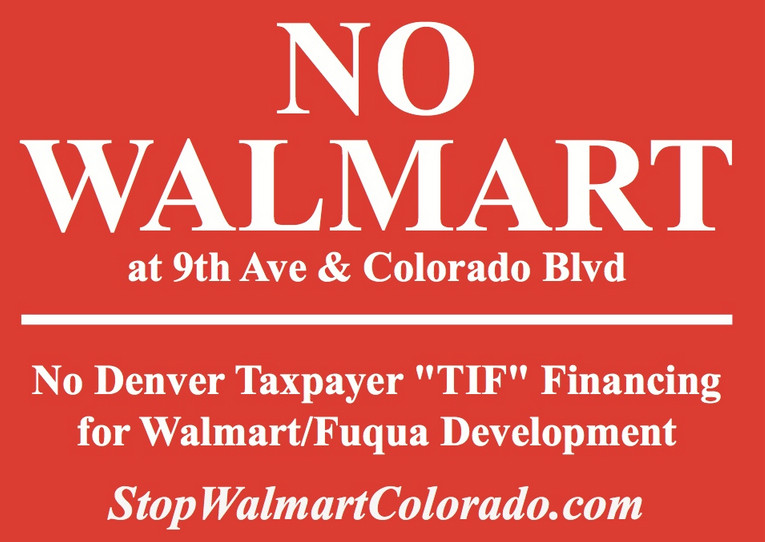 Moynihan told The Denver Post back in September that he had distributed close to 1,000 signs, but by the amount of red signs visible in neighboring streets near 9th and Colorado, that number likely increased. On his website he links out to several reports that represent why he, and many others, are against Walmart including: the driving down of worker wages, forcing of local retailers to go out of business, the longterm negative impacts on the city economy and diminishing home sales and property values in the area of a Walmart.
Fuqua said that before Walmart pulled out, he had collected around 750 letters in support of the $180 million project and most of those are from area residents, The Denver Post reports.
But a poll taken in mid-August by Congress Park residents showed overwhelming disapproval of the proposed Walmart project with all questions about the development receiving clear majority percentages of votes in opposition.
BEFORE YOU GO
PHOTO GALLERY
Nightmares That Involve Walmart