Alexa Chung has been the fashion industry's "It" girl for some time now. If she's not garnering attention for her perfectly tousled locks, it's for her stylish collaborations or her unique fashion sense. Over the years Chung has become a style icon in her own right and gained the attention of everyone from Vogue to Madewell and now, French clothing brand Maje. We caught up with the discerning fashionista at the Maje event she was hosting (the Brit stunner was the muse to the brand for the F/W 2012 collection) and she had plenty to say on her original sense of style and her recent work with Maje founder & creative director Judith Milgrom.
Alexa Chung and Maje seem like an inevitable match -- both have that innate effortlessly cool vibe. We talked to Chung as she sat curled up in a suite at the Hotel Americano where she explained that she was already a fan of the brand when Milgrom approached her. When asked why she decided to do the campaign her answer was straight-forward: "I've always loved France and French brands; I think they're just so good at being classic and chic, you know they have a whole other elegance which I could be schooled in." For Milgrom it was all about finding a girl who could emote the alluring quality her clothes have. When talking about her choice to go with Chung she likened her to Jackie Onassis, saying "she wears the clothes so well and it's so natural and rare."
The leggy beauty was humble as ever when asked about her natural, yet quirky style and said it stemmed mostly from "practicality" and a childhood spent "horseback riding" and dealing with "British weather." Although many people consider Chung's style a breath of fresh air, she's insistent that "if you're from where I'm from or you occupied East London in the early 2000s you dressed like that." Although we have a hard time believing every Brit can mix vintage and designer items so well, Chung said on the other side of the pond her style is "ten a penny" (American translation: very common).
The British star's style is under constant scrutiny, so we were interested to find out who she looks to for fashion inspiration. When asked, Chung replied:
"My best friend Tennessee Thomas (the drummer for "The Like") has awesome style, very '60s. I also like French stylist Christopher Niquet (beau of Zac Posen) -- he's got his own flair. And then I really like the band "The Horrors" they dress really well and then "The Rolling Stones" from the '70s and "The Beatles" from the '60s. A lot of it is past references as opposed to modern things."
Her nostalgia for other decades doesn't surprise us -- especially given her Halloween costumes of late. A few years ago she told us she went as "Wayne and Garth from "Wayne's World" with "Aggy" (Aggy being fashion model Agyness Deyn) and before that she went as Marie Antoinette and borrowed the costume that Keira Knightley wore in 'The Duchess.'" As for her costume plans this year, she was very hush-hush, since she didn't want anyone to steal her idea (though our money is on another period costume).
As our interview with Ms. Chung drew to a close, we had to ask what her favorite item of clothing was at this very moment. She twirled her perfectly imperfect hair (which she claims is just "naturally scruffy") and responded, "I just bought an Isabel Marant cowboy shirt which I haven't worn yet, but I literally broke my bank account -- like fully, actually broke it. So I think I have to say that for sheer cost." Though we doubt this cover girl actually broke the bank on this purchase, we couldn't help but add the item to our wish list.
PHOTO: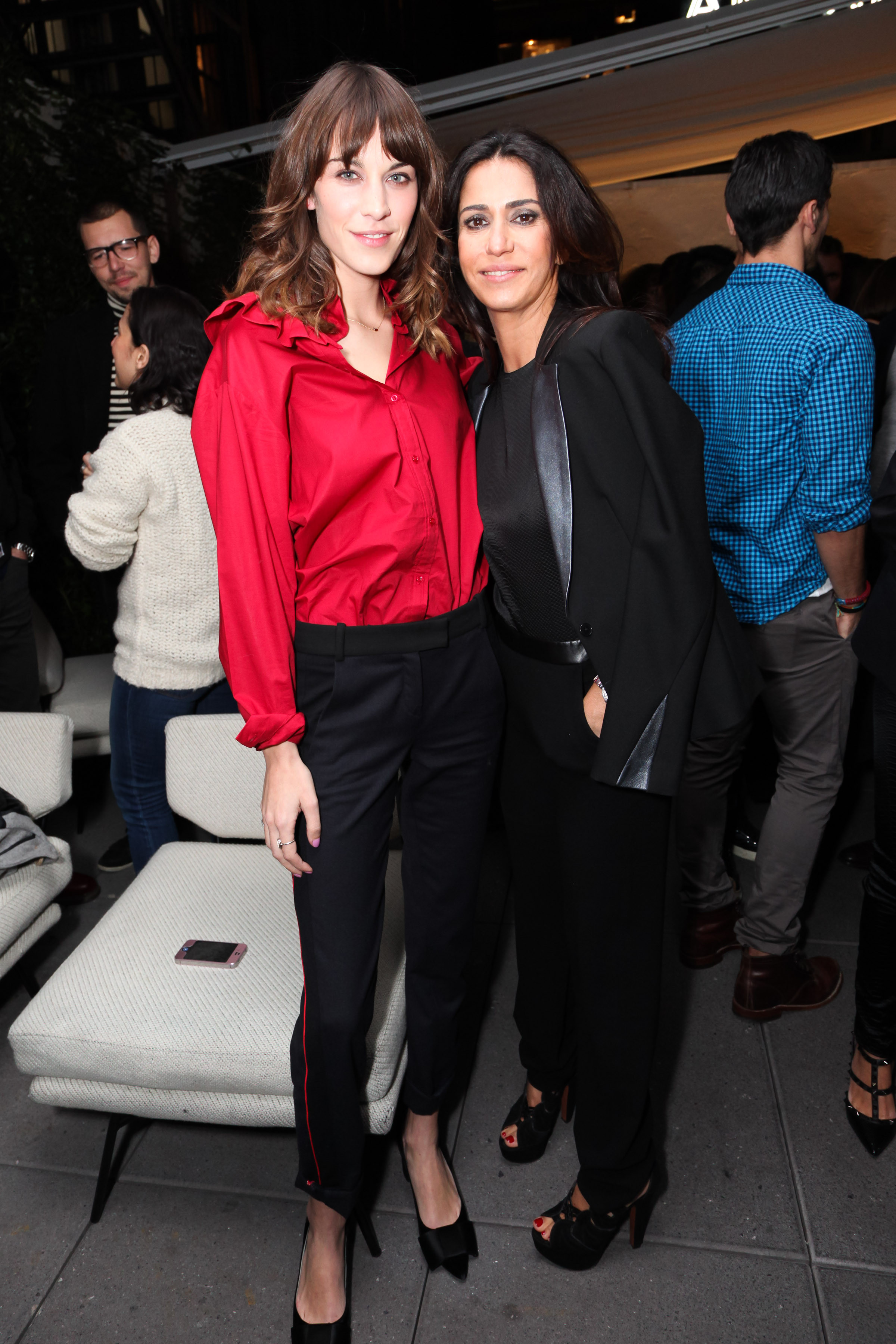 Billy Farrell Agency
Check out Alexa Chung's style evolution:
Want more? Be sure to check out HuffPost Style on Twitter, Facebook, Tumblr, Pinterest and Instagram at @HuffPostStyle.
BEFORE YOU GO