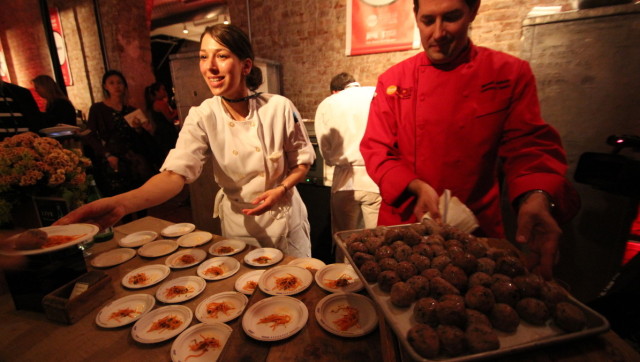 Thursday night, 90 percent of the food world royalty may have been at Chelsea Piers roasting Anthony Bourdain. But that still left a respectable 10 percent to attend this year's Meatball Madness down in SoHo. The event was hosted by Giada De Laurentiis, and drew a large, largely Italian-American crowd, who were there to gulp wine and chow down on 36 different kinds of meatballs.
HuffPost Taste's correspondent only had room in his stomach to taste 15 of them, sadly. That did include the winner of the night's audience choice award, the tomato-braised veal meatballs from Donatella. But not the dark horse winner of the chef's choice award, the Meatballs with Amatriciana served up by Gabe Thompson of the soon-to-open L'Apicio.
Neither, however, were among our correspondent's favorites. Those honors went to the deeply tender Calabrian-style meatballs from A Voce's booth, the spicy lamb meatballs with yogurt sauce dished up by Gramercy Tavern's Michael Anthony and the delicate milk-poached veal meatballs made by Harold Moore of Commerce.
Click through the slideshow below to see photos of meatballs from throughout the event:
PHOTO GALLERY
Meatball Madness 2012
BEFORE YOU GO